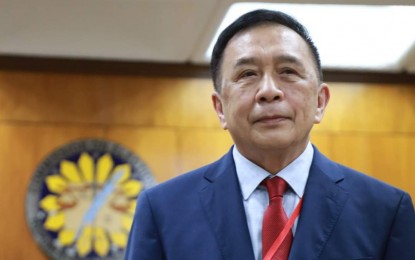 MANILA – A group supporting President-elect Ferdinand "Bongbong" Marcos Jr. and Vice President-elect Sara Duterte called on Marcos to reappoint Saidamen Pangarungan as chair of the Commission on Elections (Comelec).
In a two-page letter dated June 16 and made public Friday, the officers and members of the BBM SARA UniTeam Coalition believed that Pangarungan is the right person for the job.
"We believe that the ideals of Unity will be best achieved with him at the helm of the Comelec. Chairman Pangarungan was appointed by President (Rodrigo) Duterte in the middle of the election period. His appointment became a rather fresh breath of air in a commission that has been negatively perceived because of the lack of transparency and seeming aloofness of the members of the Commission to answer questions coming from the public," said the group, headed by Albert dela Cruz.
The group noted that Pangarungan's background in peace and security studies helped him take on the tough job of ensuring orderly polls.
"He made sure that peace covenants were instituted in all hotspots. In other areas, he personally witnessed the signing of such peace covenants. This led to the most peaceful elections in recent memory with the lowest election-related violence recorded," it added.
It said Pangarungan ensured that the people's will was reflected in the result of the polls, as he recognized that clamor on the integrity of the Automated Elections System (AES).
The group said issues surrounding providers, glitches from past experiences, and necessary important steps were addressed by the Comelec before election day.
"These are all why the National and Local Elections of 2022 is regarded as the one with the most turnout, fastest in transmission and results, and most peaceful/ These are all solid arguments to reappoint Chairman Pangarungan. We thank him for delivering an election that we can be proud of, which also resulted in the results where we now get to see the thing we all worked hard for: President BBM and Vice President Sara," it said.
Early this month, the Commission on Appointments bypassed Pangarungan's appointment, rendering the poll body's top post vacant.
Duterte appointed him to the post in March 2022.
The poll body is currently headed by acting chairperson Socorro Inting. (PNA)