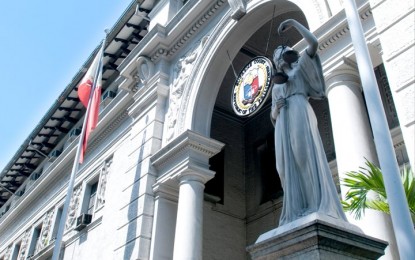 MANILA – The growing reliance on technology in the practice of law, brought by the need to keep the wheels of justice turning during the Covid-19 pandemic, is here to stay and will improve more in the future, a Supreme Court (SC) magistrate said Friday.
Speaking to a group of new lawyers, SC Associate Justice Jhosep Lopez said that as a result of the need to minimize physical meetings and to resort to online interaction, "newly-minted lawyers have the advantage as the legal community shifts to technology in their practice of law".
Lopez pointed out that the pandemic has disrupted the entire legal industry.
"Hearings are conducted no longer in court premises, but remotely from the comforts of the parties and litigants' own stations. Legal technology solutions have been replicating, if not even replacing, the usual law firm dynamics. Docket and filing fees have also incorporated convenient e-payment solutions. All of these initiatives are ongoing under the Technology Driven Judiciary agenda of Chief Justice Alexander Gesmundo," Lopez said during their meeting.
Lopez stressed "these are not interim measures, but rather, tectonic shifts in the practice of law".
He told the new lawyers that under the digital revolution, they "are placed in a unique position to capitalize on these disruptions".
"This provides you with a distinct advantage over other lawyers who have grown into a workflow rigidity, accustomed to a way of doing things in a world that has moved on," he said.
Aside from new rules on online hearings, one of the biggest reforms of the SC this year was resuming the Bar examination after a two-year hiatus.
Examinees were allowed to use laptops with special programs in various regional testing sites, instead of the usual centralized exams in Manila. (PNA)