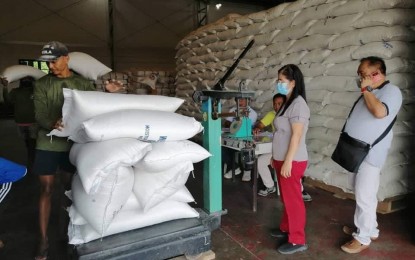 LAOAG CITY – The National Food Authority (NFA) provincial office here has assured the public that there is sufficient buffer stock of rice this rainy season that is enough to last until October, this year.
NFA-Ilocos Norte provincial manager Jonathan Corpuz said in an interview Friday that residents have nothing to worry about as the agency still has at least 26,000 sacks of palay and 15,000 sacks of rice in NFA-designated warehouses in the province.
"The buffer stock will last until the second week of October just in time for the harvest season," he said.
Corpuz reported that since January 2021, all NFA rice supply in the province has been coming from local rice farmers and not imported.
Last year, the NFA purchased a total of 39,500 bags of palay from Ilocos Norte farmers, 145,000 bags from Ilocos Sur, and 27,000 bags from Abra.
As of this posting, NFA rice is sold at PHP25 per kilo, while palay is pegged at PHP19 per kilo.
To ensure a steady supply, even in extreme emergency situations or during a strong typhoon, the NFA has partnered with the Ilocos Norte government to beef up stocks of the Filipino food staple.
Provincial Board Member Domingo Ambrocio, chair of the committee on Agriculture, stressed in an earlier interview the need to maintain a stable price of major crops in the province.
In previous years, the Ilocos Norte board has allocated around PHP35 million for the purchase of palay and rice in the province from qualified rice traders and farmers.
This way, the Ilocos Norte government is assured of sufficient rice supply until the next harvest season.
Qualified traders refer to groups and individuals engaged in palay or rice trading, while the farmer-recipients are individual farmers or accredited farmers organizations in various parts of the province. (PNA)