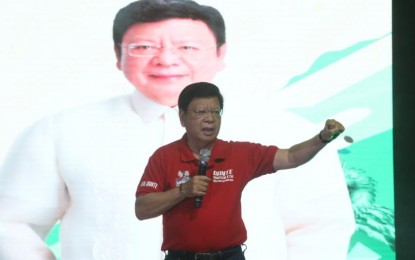 MANILA – The Commission on Elections (Comelec) has approved the withdrawal and substitution of the original set of nominees of the Social Amelioration & Genuine Intervention on Poverty (SAGIP) party-list.
In a statement Friday, acting poll body spokesperson John Rex Laudiangco said the commission en banc accepted the substitution of Rodante Marcoleta and four other nominees.
"On April 29, 2022, Nominees 2, 3, 4, and 5 filed their respective duly notarized and under oath Letters and Affidavits of Withdrawal of Nomination to the Board of Trustees, supported by two duly signed and attested Board Resolutions and a notarized Secretary-General's Certificate. Likewise submitted on even date are the new Certificate of Nomination and four (4) Certificates of Acceptance of Nomination stating as substitute nominees," he said.
Aside from Marcoleta, the other new nominees are Jocelyn A. Bituin, Nominee No. 3; Ruth B. Bajas, Nominee No. 4; and Alvino V. Cruz, Nominee No. 5.
The party's original list of nominees were Caroline L. Tanchay, Nominee No. 1; Erlinda M. Santiago, Nominee No. 2; Kristine Angela S. Redoble, Nominee No. 3; Fenicris E. Santos, Nominee No. 4 and Emelinda I. San Antonio Nominee No. 5.
"On May 11, 2022, in its continuing session, the Commission En Banc ruled to grant the Withdrawal of Nomination; and note the new nominations, with the list of nominees not having been exhausted, as the Nominee No. 1 remained therein," Laudiangco said.
However, the Comelec said after "due computation", it became apparent that the SAGIP party-list is entitled to two seats, pursuant to Sections 8 and 16 of Republic Act 7941.
"The Commission En Banc subsequently Gave Due Course to the April 29, 2022 Certificate of Nomination and four Certificates of Acceptance of Nomination, thereby approving the new List of nominees," Laudiangco added.
Based on National Board of Canvassers Resolution No. 005-22, SAGIP Party-List was proclaimed as having won two seats in the party-list system of representation.
Marcoleta withdrew his senatorial bid in the May polls.
He ran under the UniTeam of Presidential-elect Ferdinand "Bongbong" Marcos Jr. and Vice Presidential-elect Sara Duterte. (PNA)