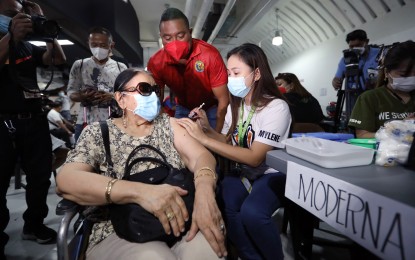 MANILA – The World Trade Organization's (WTO) ministerial decision on waiving patents for the production of coronavirus disease 2019 (Covid-19) vaccines for eligible members is expected to help the Philippines achieve its vaccine self-reliance program.
After extending one day to facilitate outcomes during the 12th WTO Ministerial Conference (MC12) in Geneva, Switzerland, the 164 WTO members decided to limit patent rights on the Covid-19 vaccine by authorizing the use of a patent "without the consent of the right holder to the extent necessary to address the Covid-19 pandemic".
Department of Trade and Industry (DTI) Undersecretary Ceferino Rodolfo, who attended the WTO MC12 in Geneva, said manufacturers still have to pay for the vaccine patent at a fair price, but the ministerial decision facilitated the non-refusal of the rights holder to use its patent rights.
He said the ministerial conference resulted in a positive outcome, and the DTI will work with the stakeholders both in the public and private sectors for the Philippines to reap the benefits of the WTO agreement.
"As you know, the Philippine government, with the support of the Asian Development Bank, has been working on a vaccine self-reliance program. We are hoping that with this decision on TRIPS (Agreement on Trade-Related Aspects of Intellectual Property Rights) waiver for Covid-19 vaccine, plus the automatic review of therapeutics and equipment, this would be an added pillar on which our vaccine self-reliance program, focusing of course on Covid-19 vaccine, could stand on," Rodolfo said.
He added that the waiver on TRIPS will help the country to expand its possible partners for Covid-19 vaccine production.
To date, Rodolfo said the country has at least two "promising possible vaccine partners", and with the WTO decision to waive patent rights on the Covid-19 vaccine, more vaccine manufacturers may look into putting up their facilities here.
The TRIPS waiver is valid for five years, with flexibility for its extension.
Within six months, WTO members will also decide on the extension of coverage of the waiver that may include the production and supply of Covid-19 diagnostics and therapeutics.
Rodolfo said this extension of coverage would be critical for the Philippines, as the Board of Investments recently approved a project of a pharmaceutical firm to produce molnupiravir, a Covid-19 medicine to manage severe symptoms.
"We will already start the advocacy campaign within the WTO to really argue on the inclusion of therapeutics. But at the same time we are also working with our stakeholders to strengthen your capability for therapeutics and expand," he added.
Increasing the local capabilities of Covid-19 vaccine and medicine manufacturing would also allow the Philippines to export these to other countries, as the TRIPS waiver allows exportation to augment the global supply.
However, re-exportation of the Covid-19 vaccines would not be allowed under the agreement.
"While the Ministerial Conference points to a positive outcome, it is just the beginning of the difficult tasks ahead of really translating this to domestic gains," Rodolfo added. (PNA)