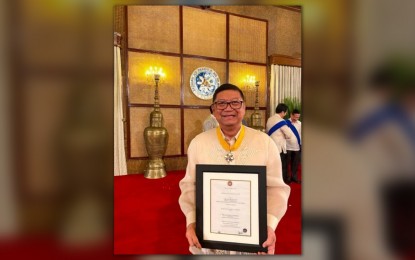 MANILA – Philippine Sports Commission (PSC) Chairman William "Butch" Ramirez has been awarded the Presidential Medal of Merit for his successful tenure as chief of the Philippine government's sports arm.
No less than President Rodrigo Duterte gave the award to Ramirez during a simple ceremony at the Malacanang Palace on Thursday.
"I did not expect this," said Ramirez, who bared that he has been working side-by-side with Duterte for over 15 years.
During Ramirez's second term as PSC chief, the only time someone was tasked to lead the agency more than once, the Philippines once again reigned supreme in the Southeast Asian (SEA) Games by taking the overall championship during the 2019 edition in Luzon.
It was in Ramirez's first term during the Gloria Macapagal-Arroyo administration when the Philippines won its first SEA Games overall title in 2005.
The success was somehow maintained during this year's SEA Games in Hanoi when the Philippine team won 52 gold medals and finished fourth overall in the medal tally.
The Philippines was even on track to matching the PSC leaders' forecast of the Top 3 finish in the medal tally.
The biggest breakthrough during Ramirez's second term was when the Philippines finally won a gold medal in the Olympics through weightlifter Hidilyn Diaz last year in Tokyo.
Ramirez dedicated the award to the athletes, coaches, and PSC employees, saying that he is privileged to represent them and that the recognition is a nod to the collective hard work of all involved in Philippine sports.
The Presidential Medal of Merit was established in 1949 and is awarded by the President of the Philippines in recognition of meritorious achievements and services. (PNA)