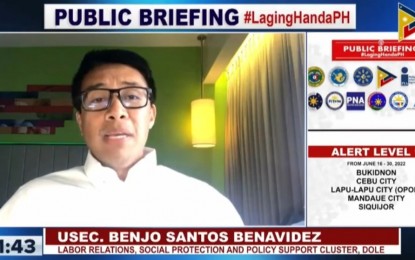 MANILA – The Philippines is among countries that will greatly benefit from the amendments to several provisions of the Maritime Labor Convention of 2006, the Department of Labor and Employment (DOLE) said on Friday.
In a Laging Handa briefing, Labor Undersecretary Benjo Benavidez said these amendments that were adopted during the recently concluded International Labor Convention (ILC) in Switzerland are timely considering that the country is sending thousands of seafarers to work abroad.
"There are eight provisions amended there and the very important one is provision on repatriation," he said.
Benavidez said that under the amendment, the ship owner and its agent are obliged to arrange for the repatriation of a seafarer who got sick or got into an accident or had his or her contract either expired or terminated.
"If he is a Filipino, bring him back to the Philippines," he said.
Benavidez added that the seafarers were also provided free internet access to be able to communicate with their families or loved ones.
"Also, because of our experience with the (coronavirus disease 2019 (Covid-19) pandemic, we have amended provisions on access to information. Because of the lockdown, seafarers need access to their families, so we make your access to internet communication mandatory while he is on the ship," he said.
Another significant amendment is the right of seafarers to suitable personal protective equipment (PPE).
"You know, the built of the Filipinos are something different, so it seems that the size of the PPE of our fellow seafarers who work on ships and cargo vessels is just right," he added.
Likewise, Benavidez noted that seafarers are also given priorities in terms of basic needs such as food, accommodation and water,
"Again, these are lessons we learned when there was a lockdown and pandemic and because of those lessons we had to amend the Maritime Labor Convention so that we can better protect and promote the welfare of our Filipino seafarers. And we voted in favor of these amendments," he added.
The ILC was held from May 27 to June 11 in Geneva. (PNA)