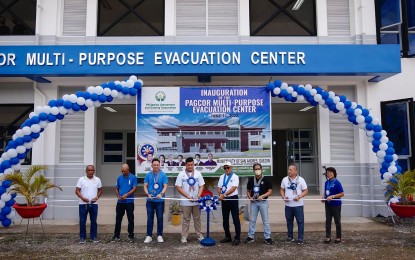 MANILA – Residents of Dingalan, Aurora and San Andres, Quezon now have typhoon-resilient evacuation facilities to seek shelter in during calamities, following the inauguration of new structures in the two provinces, funded by the Philippine Amusement and Gaming Corporation (Pagcor).
The two-story Multi-Purpose Evacuation Center (MPEC) in Dingalan worth PHP50 million was opened on Thursday, according to a statement from Pagcor on Friday.
Dingalan's picturesque mountains, scenic beaches, and pristine waterfalls make it a haven for tourists who wish to commune with nature and experience exciting adventures. However, the rainy season poses a great threat to the municipality, which is often battered by destructive typhoons.
Locals, especially those from the coastal villages of Matawe, Ibona and Umiray often scurry to evacuate to nearby schools, which serve as temporary evacuation centers.
Ibona's Barangay Captain Ricardo Balala Jr. said their situation is far from ideal because the classrooms, which they use as evacuation facilities during calamities, are not designed for such purpose.
According to Dingalan Mayor Shierwin Taay, the MPEC in their area is a realization of a long-time dream.
"Salamat sa Diyos dahil ang pangarap na ito na magkaroon ng isang landmark building sa timog bahagi ng Dingalan ay nagkaroon ng katuparan sa araw na ito. Maraming maraming salamat po sa Pagcor (Thank God because our dream of having a landmark building in the southern part of Dingalan was realized on this day. Thank you very much, Pagcor)," he said.
Meanwhile, two newly-constructed MPECs in San Andres, Quezon also funded by Pagcor are now ready to provide safe shelter to locals who are often displaced by natural calamities after the inauguration of the facilities on June 11.
With a total of PHP77.90 million funding from PAGCOR, the local government of San Andres was able to hasten the construction of a two-storey MPEC in Barangay Mangero and a covered court-type evacuation center in Barangay Poblacion.
Pagcor president and chief operating officer Alfredo Lim who graced the inauguration events in San Andres, underscored the agency's commitment to nation-building through its various Corporate Social Responsibility programs.
"Being our flagship program, the Multi-Purpose Evacuation Centers project has been designed to help safeguard the lives and protect the welfare of our less privileged kababayans (fellow countrymen) who have no safe place to go during extreme weather conditions. This project has been made possible because of the dedication and commitment of our employees, who made PAGCOR's revenue generation efforts possible, even amidst the pandemic," he said.
On the other hand, Pagcor chairman and chief executive officer Andrea Domingo expressed optimism that more MPECs will be completed in the coming weeks. "I am confident that our partner LGUs will continue to fast-track the construction of these evacuation facilities before the typhoon season. We all know how vulnerable our country is to climate change and these evacuation facilities will serve as their safe havens," she said.
Since its launch in 2020, Pagcor has allotted PHP3.5 billion for the project. Of this amount, PHP2.024 billion has been released for 73 sites.
A total of 10 MPECs in Aurora, Quezon Province, Tarlac, Albay, Capiz and the towns of Sagñay, San Jose, Tigaon and Ocampo in Camarines Sur have been completed. (PR)