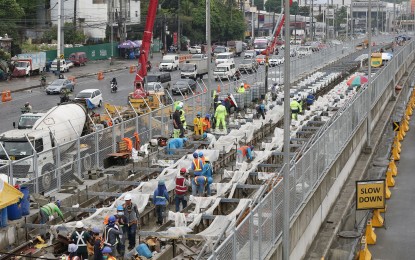 MANILA – The Philippines' current account (CA) is projected to post a higher deficit in the coming years but a ranking central bank official said there are structural inflows that would offset this.
In a briefing on Friday, Bangko Sentral ng Pilipinas (BSP) Department of Economic Research Managing Director Zeno Ronald R. Abenoja said the country has registered CA deficits in recent years.
This, however, is not a negative development because it was due to higher goods importation due to increased infrastructure spending, Abenoja said.
"Given that these investment expenditures over the past years could improve the economy's potential capacity, we expect that the subsequent rise in exports and investment capital inflows will help alleviate the pressure in (the) trade gap, as well as concerns in financing the current account," he said.
He said higher commodity prices in the global economy in recent years are also another factor for the increase in the CA deficit.
The CA deficit, Abenoja said, could be financed by the continued robust remittance inflows from overseas Filipino workers, the revenues of the Business Process Outsourcing sector, travel receipts as the country welcomes more travelers from overseas, and foreign investments coming in.
The BSP's policy-making Monetary Board has approved the latest balance of payment (BOP) projections for 2022 and 2023.
The latest BOP projection for the year is a deficit of USD6.3 billion, higher than the previous USD4.3 billion. (PNA)