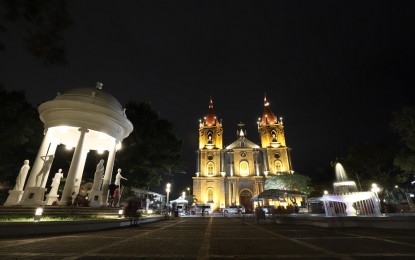 ILOILO CITY – Iloilo City is "one of the places if not the place in the country " with the most number of preserved plazas that are open for the public to visit, the head of the National Historical Commission of the Philippines (NHCP) has said.
The Commission formally turned over on Friday evening the newly-restored Molo plaza simultaneous with the lighting up of the project and the church.
NHCP chairperson Dr. Rene Escalante, in his message, said Iloilo is one of the places if not the place in the country where they had the most number of restored projects.
"I have to admit that as I visit the other sides of the country, I would say that Iloilo was really able to preserve its open spaces, unlike in other places. Here in Iloilo most of the plazas remain open," he said.
Among those restored inside the plaza are the statues of Greek goddesses and the monument of Maria Clara.
A fountain was also installed to break the monotony of the artworks, he added.
The PHP20 million restoration fund was facilitated by Ilonggo Senator Franklin Drilon, who considered this attendance at the ceremony as one of his official functions in Iloilo before he retires from government service on June 30.
"This plaza brings back memories of my childhood and that is why it is appropriate that I go back here as among my last visits as a senator. Two weeks from now I am no longer senator, I will just be an Ilonggo who will be a friend to all," he said.
Drilon, who grew up in the Molo district, said the church was significant for him because it was where he was baptized.
The senator also helped look for funds to restore the Molo church because of its historical significance.
Research done by the NHCP, national hero Dr. Jose P. Rizal passed by the Molo church in the early or late 1800, Drilon said.
Roel Castro, president of the More Electric and Power Corporation, the power provider that funded the lighting project said they will be the city's partner to celebrate its rich heritage.
Mayor Jerry P. Treñas, in his acceptance message, said that the Molo plaza is the first plaza in the city to be restored.
He committed to ensuring that the place will not be damaged and vandalized.
The city government will deploy police and green guards while the City Environment and Natural Resources Office will make sure that its beauty is maintained, he added.
Meantime, Escalante said that sometime in September they will already complete the restoration of the Jaro belfry, bandstand, and the monument of Graciano Lopez Jaena at the Jaro Plaza.
And before the end of the year, they will have the newly restored Custom House, which will be reused as the country's maritime museum. (PNA)