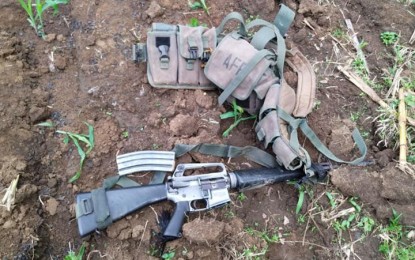 CAMP SIONGCO, Maguindanao – The serving of warrant of arrest on the leader of an armed group leader turned into an encounter, resulting in the killing of the suspect and his companion in Barangay Bugasan Sur in Matanog, Maguindanao province on Friday morning.
Maj. Melchor Gonzaludo, Marine Battalion Landing Team-5 (MBLT-5) commander, on Saturday identified the fatalities as Norodin Guimad, the leader who has standing warrants of arrest for murder and frustrated murder, and Puti Sumanday, one of his followers.
"Combined troops of MBLT-5 together with Matanog policemen were to serve the warrant of arrest against Guimad," Gonzaludo said in a statement.
Instead of surrendering peacefully, Guimad and about 10 others opened fire, triggering a firefight that lasted for about an hour.
The remains of the two were discovered during a clearing operation, according to Col. Eric Macaambac, 1st Marine Brigade commander.
Recovered at the clash site were one M-16 Armalite rifle, one caliber .45 pistol, bandolier, ammunition, drug paraphernalia, and other evidence that the Marines have turned over to the police.
"Team from JTF (Joint Task Force) - Central and our partners from the police and other security forces are always on the job. We are maximizing our joint efforts to eliminate the threats to society," Macaambac said in a statement.
Maj. Gen. Roberto Capulong, acting commander of 6th Infantry Division and JTF-Central, said that with the neutralization of Guimad and his cohort, it is expected that the armed group will weaken. (PNA)