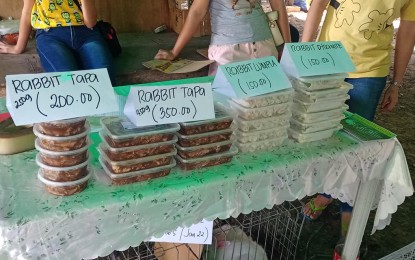 CAGAYAN DE ORO CITY – The Misamis Oriental capitol compound is busy every Friday with agricultural produce and livestock being sold at the "Farmers' Market".
Among the enterprising groups selling products is the Misamis Oriental Rabbit Breeders and Raisers (MORBR) group which promotes rabbit meat as an alternative source of protein.
They sell processed rabbit meat such as "tapa" (dried cured meat) and "lumpia" (spring roll) that retail between PHP150 and PHP350 per pack of 400 grams.
The group also sells "tocino" (sweet cured meat) but it was not available on their first day on Friday, according to Sheena Mae Jamis who tended the booth.
They started making rabbit processed food with the help of another breeder based in Maramag, Bukidnon.
Before securing a space at the capitol market, most of their promotion and activities were done online through Facebook.
Formed in 2021, MORBR has 30 members from Misamis Oriental province and this city but in their Facebook group, breeders and rabbit meat enthusiasts have reached more than 1,200.
The provincial government and veterinary office have thrown their support behind the potential alternative to pork and chicken, especially with the occurrence of African swine fever and avian influenza.
The main challenge is the public's acceptance, as rabbits are preferred mostly as cuddly pets.
"One of our (MORBR) main goals is the public's acceptance so that we can introduce the benefits of rabbit meat and help others start their livelihood," Reynan Recimilla, MORBR vice president, said in an interview on Saturday.
Supply and demand
As a newly formed group, Recimilla said they are focusing on having more breeders to meet their supply targets.
"The demand (for rabbit meat) may not be that high yet, but we are lacking supply already," he said in the vernacular.
Willie Nacalaban, a senior science research specialist of the Department of Agriculture (DA) - Northern Mindanao Agricultural Crops and Livestock Research Complex based in Malaybalay City, Bukidnon, said that to meet the regular demand for rabbit meat, raisers in the region have to provide at least 640 kilograms a day.
"For now, we are focusing on multiplying our resources because most raisers don't have enough supply of meat to sustain the demand," Nacalaban said in an interview.
He cited a situation of a raiser who sold roasted rabbit, cooked like "lechon" (roast pig) in Maramag, Bukidnon, but slowed down for a while because of the limited supply.
While there is a growing number of rabbit raisers in Bukidnon, Nacalaban said only a few have livestock reaching over 100.
Compared to other livestock, raising rabbits is faster and cheaper, especially in feeding.
"In hogs, you spend two kilos of feeds every day and that's an average PHP30 per kilo. With rabbits, you only spend an average of 50 grams of concentrate (pellets). A kilo can last for weeks," Nacalaban said.
While rabbits can feed on grass, he said giving pellets as a variation on their daily diet will improve growth as well as reproductive health.
The DA said rabbit meat is highly nutritious with low fat and cholesterol.
Training future raisers
Recimilla said MORBR also wants to train breeders and is seeking the assistance of the DA and provincial government.
"We need an upgrade of skills through seminars so that we will have a bigger opportunity and better chances in this livelihood," he said.
For Jamis and other self-taught raisers, they learned the proper handling of rabbits and the preparation of meat through online video tutorials.
Nacalaban said programs related to rabbitry are already in place but since there are a few raisers, the training opportunities have not materialized yet.
"Should there be an interest to conduct a training [on rabbitry], we can provide them. They just need to write us a letter," he said. (PNA)