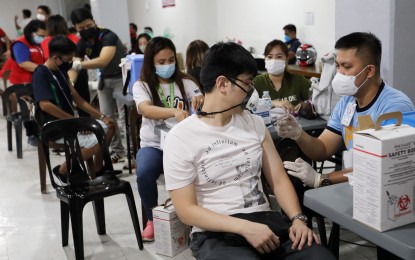 MANILA – The government should expand the second Covid-19 booster doses to the general public for complete protection against the disease, according to a lawmaker.
Iloilo (1st District) Rep. Janette Garin said Saturday that the Delta and Omicron variants of Covid-19, as well as other subvariants, have changed the definition of "fully immunized", noting that waning and inadequate protection from the primary vaccination series are the reasons why there are breakthrough infections.
"Everything must be backed by science. Trials have established the benefits of receiving two boosters. Those who would like complete protection should be allowed to do so and be given the option," Garin, a former Health secretary, said in a statement.
She said "fully immunized" should now mean the completion of the primary series and two booster doses.
Sooner, she said the primary vaccination series will have to be three doses, based on the behavior of the virus and its impact on vaccination.
"Walang overdose sa bakuna. Kailangan maintindihan ito ng taong bayan (There is no such thing as overdose in vaccines. The public should understand this)," she said. "Kailangan lang natin ng mga tamang tao at eksperto na mag-explain ng vaccination sa ating mga kababayan para maalis ang mga agam-agam at takot (We just need the right people and experts to explain the importance of vaccination and remove doubts and fears)."
Currently, only the elderly, medical front-liners, and immunocompromised adults (with cancer, human immunodeficiency virus/acquired immune deficiency syndrome, taking immunosuppressants, or who received an organ transplant) are eligible for the second dose.
The National Vaccination Operations Center said that as of June 17, the government has already fully vaccinated 70,005,247 or 77.78 percent of the target population.
A total of 14,704,514 have their first booster shots while 648,555 have received the second booster dose.
Dr. Nina Gloriani, Vaccine Expert Panel chairperson, previously said that since the efficacy of Covid-19 vaccines wanes over time, booster shots would provide an extra layer of protection, especially for those directly exposed to coronavirus and as protection against a potential surge.
The neutralizing antibodies of fully vaccinated individuals are expected to come back or increase five to seven days after the administration of a booster shot. For some people, it takes just two to three days, Gloriani said.
"As for those eligible for a second booster dose, it should be four months after the first [booster] dose," she added. (PNA)