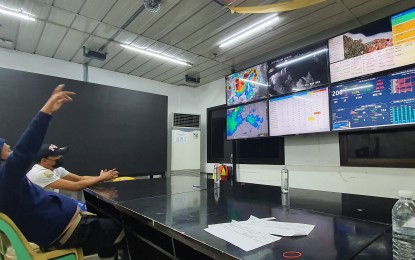 CAGAYAN DE ORO CITY – An efficient communications system has been credited for the success of the City Disaster Risk Reduction Management Department (CDRRMD) here.
Nick Jabagat, CDRRMD officer-in-charge, said for the past nine years, the agency has upgraded its facilities and hired more personnel.
One of the key features of the CDRRMD are the active communication lines during disaster response.
"We just don't rely on social media. We also installed repeater satellites in hinterland villages. These satellites will not only serve in disaster response but also communications in relation to peace and security," he said during the podcast organized by the Cabinet Officers for Regional Development and Security-10 on Saturday night.
Jabagat said the city government capacitated 80 villages in disaster risk reduction communications by deputizing focal persons.
Another key component of CDRRMD is Emergency 911, which now has 15 state-of-the-art ambulances.
Davao City was the first in the country to activate the 911 emergency hotline when President Rodrigo Duterte was still the mayor in 2002.
Cagayan de Oro City launched its Oro Rescue 911 in October 2017, with Duterte signing Executive Order No. 56 in 2018, known as "Institutionalizing The Emergency 911 Hotline as the Nationwide Emergency Answering Point, Replacing Patrol 117".
Last week, Emergency 911 national office executive director Diosdado Valeroso awarded the Notice of Activation or go live status to Oro Rescues 911's local call center. (PNA)