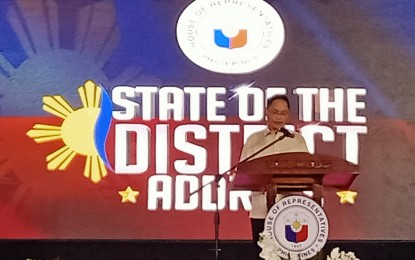 SILAY CITY – The vital role of education in the country's success will highlight anew the term of Negros Occidental (3rd District) Rep. Jose Francisco Benitez when he begins his second term on June 30.
Benitez took his oath of office on Saturday before this city's Mayor Mark Golez.
The third district is comprised of the cities of Talisay, Silay, and Victorias and the municipalities of Murcia and E.B. Magalona.
"Education is key. We have to teach children not only to read and write, not only what to think but how to think – to solve problems and navigate complex systems that shape our world," Benitez said in his district address at Magikland events center here.
An educator himself who was the president of the family-founded Philippine Women's University before he became congressman in 2019, Benitez said in his speech that "what is clear is that we need to invest not only in physical infrastructure for sustainable development, infrastructure that facilitate the efficient flow of resources".
"But also [we must invest] in cognitive infrastructure to catalyze flow of ideas and deepen values of stewardship and sustainability," he added.
In the 18th Congress, Benitez worked on the creation of the Congressional Commission on Education to evaluate the country's education system and recommend reforms to enhance learning for life and adapt the population to the demands of a changing economy and society.
"This is just waiting for the signature of the President (Rodrigo Duterte)," he said.
Recognizing the role of private schools in improving education, he filed House Bill (HB) 9573, which became Republic Act 11635 that amended the National Internal Revenue Code, provides private schools tax relief to cope with losses due to dwindling enrolment because of the pandemic, and allow the institutions to use their tax savings to invest in transition to flexible learning methods.
In his bid for life-long learning, Benitez filed HB 6749 to establish community learning centers equipped with internet connection and digital devices, integrated into HB 9004 which Congress passed.
"[In the third district], we have already built multipurpose facilities that can host learning activities and assemblies that will deepen our sense of community. From 2019 to this year, we have funded the construction or rehabilitation of multi-purpose buildings in 94 locations around the district," he said.
This year, Benitez will launch "Batang K", a youth development program that will provide a wide range of opportunities for young people such as art workshops, sports clinic, academic mentorship, and peer counseling.
He likewise filed two bills that will establish the Negros Occidental High School for the Arts and Design in Silay and the Negros Occidental High School for Sports in E.B. Magalona.
"In the 19th Congress, I will also push for the institutionalization of ESD or Education for Sustainable Development, or the inclusion of the principles, concepts and facts related to the 2030 Agenda for Sustainable Development," Benitez said. (PNA)