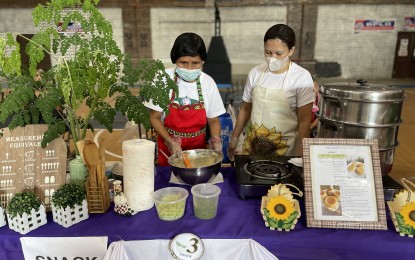 LAOAG CITY – One of the Ilocanos' secrets to longevity was unveiled on Sunday as some residents here showcased their finished products from malunggay (moringa) plant as a superfood.
Once considered a poor man's vegetable, malunggay takes the center stage as Laoag's high-value commercial crop during this year's second malunggay festival promoting its many uses as a nutritious food.
A cooking competition was held at the Laoag City gymnasium where the participants made use of malunggay leaves, flowers, and fruits either prepared as the main dish, snack, or dessert on the Ilocano table.
Presented during the Dulang food fair are simple malunggay recipes like moringa jelly, malunggay balls with mushroom and garlic sauce, malunggay chips, malunggay graham, malunggay empanada, malunggay crepe dessert, and malunggay shanghai, among others.
"It feels good to know that there have been so many changes in Laoag now," Artemio Acoba, a resident of this city, said on Saturday as he feasted on the sample dishes presented during the food fair.
Acoba arrived home last April after spending three years as an overseas Filipino worker at Desroches Island in Africa.
For Acoba and other visitors who attended the food fair, the dishes are all delicious and these can be introduced to tourists as additional "must try" products of Laoag.
In an interview, city agriculturist Sheila Marie Opelac said the cooking festival aims to promote malunggay as a superfood due to its nutritional values like calcium, potassium, zinc, magnesium, iron and copper, and vitamins A to E.
All 80 barangays of Laoag are currently expanding their malunggay plantations, utilizing idle lots including village streets which are now planted with malunggay trees.
In the city alone, malunggay has been a "very profitable livelihood source" for the impoverished community.
Through the government's various intervention programs to provide livelihood training, including those on food processing, malunggay leaves are now turned into noodles, cookies, pretzels, pan de sal (salt bread), and beauty products such as soaps, lotions, and many others.
Aside from processing, some are also selling at PHP15 per bunch of malunggay leaves while its fruits are pegged as high as PHP75 per bunch at the Laoag supermarket.
The Department of Agriculture is promoting the planting of malunggay nationwide.
The Department of Education is also actively involved in the campaign by encouraging parents and school children to plant malunggay trees to become aware of its nutritional and medicinal value to prevent malnutrition and other diseases.
Even a growing number of centenarians in the city and province acknowledged that malunggay consumption every day does wonders to their long life. (PNA)