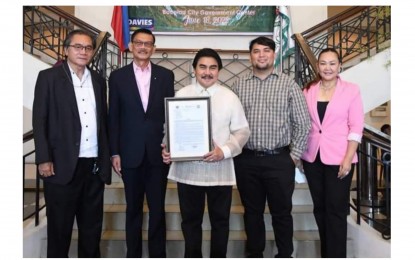 BACOLOD CITY – Mayor Evelio Leonardia has been recognized by the City Council here for his contribution and service to the city as he steps down from his post on June 30.
Leonardia, the longest-serving local chief executive after having been elected mayor for six terms, or a total of 18 years, was honored during an event marking the city's 84th Charter Day held at the Government Center's main lobby on Saturday.
"As a servant leader, he has impacted the lives of many in the City of Bacolod in ways that certainly are worth commending and remembering," Resolution 441 signed by Vice Mayor El Cid Familiaran stated.
The outgoing mayor received a copy of the resolution from councilors Archie Baribar, Renecito Novero, Israel Salanga, and councilor-elect Em Legaspi Ang.
Leonardia, who lost his bid for a third and final term to former Negros Occidental third district congressman Alfredo Benitez in last month's elections, became a mayor in 1995 to 1998, 2004 to 2013, and 2016 to 2022.
From 2019 to 2022, he served as the national president of the 145-member League of Cities of the Philippines.
Starting his political career in 1986 as a member of the City Council, he holds the distinction as the only Bacolodnon to have been elected as councilor, vice mayor, mayor, and congressman.
He began his government career as a tourism executive and co-founded the world-famous MassKara Festival.
After losing to Benitez, Leonardia, who described the election results as "mysterious and unbelievable", filed an election protest before the Commission on Elections (Comelec) central office.
He sought a manual recount of the votes in all 450 clustered precincts, and asked the Comelec to declare "failure of elections" and conduct special polls due to alleged massive vote-buying and the presence of fake voters.
Benitez garnered 171,893 votes while Leonardia got 107,447 votes in the May 9 polls. (PNA)