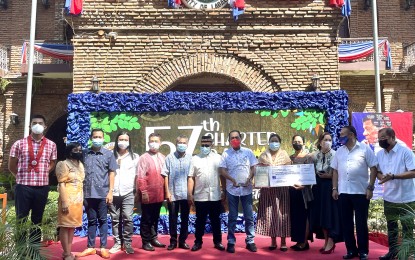 LAOAG CITY – The city government has chosen Barangay 1 San Lorenzo as this year's best performing lupon (peace committee) with a rating of 99.3 percent for demonstrating exemplary performance in settling disputes at the grassroots or barangay level.
Ilocos Norte Governor Matthew Joseph Manotoc and City Mayor Michael Keon led the awarding ceremony on Sunday, in front of the city hall in time for the 57th Charter Day celebration of the city.
The most outstanding lupon received a cash prize of PHP25,000 and a plaque of recognition.
Keon lauded the efforts and commitment of the village officials, as well as members of the lupong tagapamayapa (peacemakers), for their support and cooperation in making the city peaceful and livable.
"Thank you for your hard work and dedication in supporting the city government's thrusts especially when it comes to the maintenance of peace and order in your respective barangays," he said.
In receiving the award, Melvyn Santos, punong barangay and chairperson, said it is a "great pride and honor" for his barangay to reclaim the "title" as the best performing lupon among other barangays in the city. Barangay 3 took over it for the past four years.
Barangay 1 is set to represent the Ilocos Region at the national level of Lupong Tapapamayapa Incentives Awards under the component city category after winning at the regional level.
The lupon's office inside the barangay hall features an alfresco area adorned with a vertical garden.
To give the Office of the Lupong Tagapamayapa (LT) a "homey" feel, the 14 members of the lupon have converted the office sala or visitor's lounge on the second floor into a "hearing venue" for cases being brought to them by the residents.
"The lupon resort(ed) to creative techniques of settlement resolution. They listen to the parties and facilitate clearing up the misunderstanding and aim at amicable settling whenever possible," said Ma. Victoria Domingo, president of the LT Association, citing that many cases of misunderstanding in the village mostly stem from rumormongering, land disputes, family relationships, and money.
Domingo said they apply the so-called "la casa" technique to let complainants, who usually arrive at the hearing venue earlier than the respondents, write down whatever they wanted to say.
She said such technique works best in cases of conflict with families or neighbors so that when they face off, the complainant feels better and calmer after putting his or her feelings on paper.
"The use of biblical verses, teachings, and parables are likewise flashed in the monitor while the case hearing is going on," Domingo said.
It has succeeded in ensuring social justice in the barangay as its members amicably settle whatever conflicts that may arise among its constituents.
The lupon also ensures its creativity is complemented with efficiency measures, such as the observance of settlement procedure and settlement deadlines, the systematic maintenance of records, timely submission of reports to concerned agencies, and the conduct of monthly meetings exclusively on the barangay justice system. (PNA)