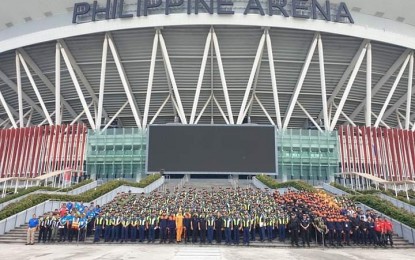 MANILA – The Philippine National Police (PNP) is eyeing the Philippine Arena as one of the ideal areas where large LED television will be set up to allow more supporters to witness the inauguration of President-elect Ferdinand "Bongbong" Marcos Jr. on June 30.
"If the Philippine Arena were used as a remote viewing area, it could accommodate around 70,000 inside and another 100,000 outside, particularly in the front area of the arena," said Maj. Gen. Valeriano de Leon, PNP director for operations, in a statement on Sunday.
De Leon said they are now coordinating with the camp of Marcos on their proposal to use the Philippine Arena in Bulacan as one of the viewing areas, along with other strategic places that can accommodate a large number of people.
Aside from the Philippine Arena, De Leon said another area where they could set up a viewing area for live streaming of the inauguration would be the Philippine Sports Center in Pasig City, which could accommodate up to 40,000 people.
He said they will also push for the use of the North Luzon Express Terminal, also in Bulacan, and the Mall of Asia in Pasay City.
"If viewing areas were set up in these areas, then they could greatly reduce the number of people at the National Museum in Manila, which can only accommodate a limited number of people," De Leon said.
He said based on the initial assessment, more or less 1,200 people will be allowed at the National Museum.
He said they are also ready to set up more viewing areas in other parts of the country.
De Leon said they are currently coordinating with the management and owners of the large LED televisions along Edsa and other parts of the country to accommodate the livestreaming of Marco's inauguration as the country's 17th President.
"Let us set aside the business side first, just for a few hours on June 30th, because it is not the new administration who would benefit from this but the entire Filipino people, whether they voted for the President-elect or not," he added.
De Leon said the proposal is gaining support from the owners and management of the LED televisions and from other sectors.
He earlier instructed regional commanders to find suitable areas in their areas of responsibility where large TV screens could be set up for the June 30 inauguration day.
"We are continuously discussing the locations of these viewing areas based on the recommendations of our Regional Directors and in coordination with the camp of our President-elect Bongbong Marcos," De Leon.
All systems go
The National Capital Region Police Office (NCRPO) said all systems are in place to secure the inauguration of Marcos, son of former President Ferdinand E. Marcos Sr.
In a statement on Saturday night, NCRPO chief Maj. Gen. Felipe Natividad said final security preparation had been laid down and finalized to ensure success and zero casualty and any untoward incident.
"We have not monitored any threat ahead as of this moment but we are continuously and closely monitoring and coordinating with our counterparts," Natividad said.
He said several road closures, the 1-kilometer radius of the National Museum will be declared a no-fly zone for drones and aircraft, while several ports and waterways near the establishment have also been inspected.
Natividad said gun ban will be imposed from 6 a.m. on June 27 to 6 a.m. on July 1, adding only police and military and other law enforcers who are performing official duties in prescribed uniforms will be authorized to carry firearms.
Motorists are advised to take alternate routes as heavy traffic will be expected, particularly in roads leading to and from the National Museum.
Backpacks also not be allowed in all VIP areas to ensure the safety of everyone.
At least 6,000 police officers will be deployed for Marcos' inauguration. (PNA)