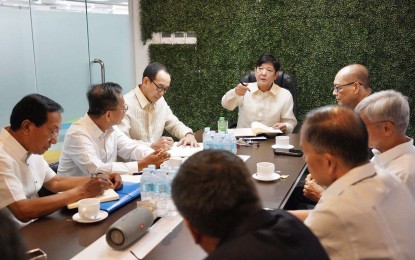 MANILA – The incoming administration will be facing multiple challenges when it assumes office on June 30, but strong fundamentals and bright macroeconomic prospects provide room for optimism," according to a briefer gathered by President-elect Ferdinand "Bongbong" Marcos Jr. from his designated economic team.
"We have all heard encouraging statements from the incoming economic managers led by outgoing Bangko Sentral governor and incoming finance chief, Benjamin Diokno, that our new administration will be taking off from sound economic fundamentals," Marcos said in a news release on Sunday, referring to the briefer.
"It will not be an easy road ahead, but we are not without the necessary wherewithal and elbow room to manage the challenges," he added.
Among challenges Marcos will have to contend with are government's Covid-19 exit strategy, soaring oil prices, accelerating inflation rate, effects of the war in Ukraine, and a looming worldwide food crisis.
While Covid-19 stalled the Philippines' momentum from pre-pandemic annual growth by at least 6 percent, "now we have bounced back and returned to our robust growth path," Diokno said, in a speech in Manila on June 13.
"The International Monetary Fund shares the view about the Philippines' favorable economic prospects vis-à-vis its peers. In its latest World Economic Outlook report, the IMF projects the Philippines to post the fastest growth in the region this year at 6.5 percent," he said.
Outperforming neighbors
Diokno explained the Philippine economy is outperforming neighbors, growing by 8.3 percent in the first quarter of 2022, exceeding Malaysia, Indonesia, Vietnam, Singapore, and Thailand.
He noted broad-based expansion in the first quarter of 2022, with agriculture, forestry, and fishing growing by 0.2 percent; industry by 10.4 percent; and services by 8.6 percent.
Still reeling from the effects of the pandemic, the manufacturing sector is also performing aggressively with the S&P Global Philippines Manufacturing Purchasing Managers' Index reaching 54.1 percent in May this year -- the highest in over four years.
Consumer and business confidence are on an upswing: consumer sentiment is seen to hit 30.4 percent for the next 12 months, while business confidence index is expected to hit 69.8 percent for the same period after rising to 59.7 percent in the second quarter of 2022.
The Philippines' foreign direct investments are "soaring," with net inflow jumping by 8 percent to USD1.71 billion in January and February 2022, after hitting a record high of USD10.5 billion in 2021.
Gross international reserves (GIR) as of end-April 2022 stood at USD106.8 billion, equivalent to 9.4 months' worth of imports -- three times more than the minimum standard of three months which the Bangko Sentral ng Pilipinas (BSP) has to maintain.
A country's GIR is deemed "adequate" when it is able to finance at least three months' worth of the most immediate obligations: imports of goods and debt service.
Diokno further said, "Household consumption increased by 10.1 percent, while government consumption grew by 3.6 percent; exports and imports also improved with 10.3 percent and 15.6 percent expansion, respectively."
Employment has "significantly improved," with 1.5 million jobs created from February to March this year, from an unprecedented 17.6 percent unemployment rate at the height of lockdowns in April 2020.
And while massive spending was necessary as part of government's pandemic response, which resulted in higher debt-to-GDP ratio, Diokno is confident debt will go down to 60.4 percent in 2024, two years into the Marcos administration.
Diokno said, "It is worth emphasizing that our current level of debt-to-GDP ratio is well below the figure for other economies, some of which have debts over 100 percent or even 200 percent of their GDP."
Philippine debt stood at 63.5 percent of GDP at the end of first quarter 2022.
As for provisional advances amounting to USD10.3 billion the BSP extended to the national government at the height of the health crisis in 2020-2021, Diokno bared these have been fully paid before the maturity schedule on June 11, 2022.
Foreign investments
Diokno also noted the Philippines will continue to attract foreign investments with the current administration's enactment of the amended Retail Trade Liberalization Act, Foreign Investments Act, and Public Services Act.
As an added boost to the reform momentum, the tax system Marcos will inherit is "much better," according to Diokno, after the Duterte administration reformed personal income tax and corporate income tax; increased taxes on cigarettes three times; increased tax on petroleum products; and imposed tax for the first time on sugary products.
Marcos' development agenda will also be backed up by a "better state of infrastructure."
"During the last six years, the Duterte administration invested heavily in infrastructure under its 'Build, Build, Build' program. I call the period 2016-2021 as the Philippines' Golden Age of Infrastructure, with infrastructure spending as percent of GDP hitting an average of 5.0 percent. In contrast, infra spending as a percent of GDP averaged 1.5 percent from 2001 to 2009 and 2.5 from 2010 to 2015. "A total of 88 infrastructure flagship projects for completion in 2023 and beyond will be up for the next administration to continue," Diokno said.
During the election campaign, then candidate Marcos lauded President Rodrigo Duterte for revitalizing infrastructure development, and vowed to follow through with "Build Better More" which will include digital infrastructure.
Marcos has stressed earlier that the present momentum and gains as a result of the efforts of the current administration must be unimpeded, and should be made stronger through the adoption of more creative and innovative ways to further stimulate infrastructure development and create jobs.
Based on records from the Department of Public Works and Highways (DPWH), some 6.5 million jobs have been generated under "Build, Build, Build."
Diokno echoed the need for continuity in governance to sustain economic gains and improve the welfare of Filipinos.
"While changes come with a new set of challenges, I believe the country will significantly benefit from the policy continuity that the incoming administration is poised to observe," he said. "I am confident that the transition in administration in the Philippines will pave the way for more economic gains for the Filipino people," he added.
Diokno earlier said Marcos and his economic team intend to reduce poverty to single digit by the end of Marcos' term. (PR)