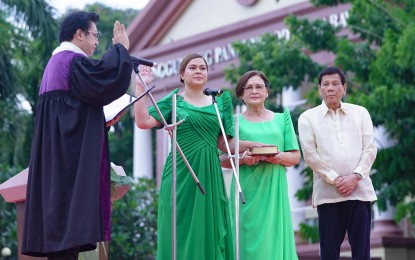 MANILA – Lawmakers sent warm congratulatory messages to Vice Sara Duterte on her inauguration as the country's 15th Vice President in Davao City on Sunday.
Leyte Rep. Martin Romualdez, the top contender for the Speaker post in the 19th Congress, said Duterte's victory is the "triumph of the more than 31 million Filipinos" who shared their message of unity for the country and their aspiration of a better life for Filipinos.
"By her victory, she has done her father, President Duterte, her family and her constituents proud. It's just apt that she wants to begin her term as Vice President in her home city," Romualdez said in a statement.
Romualdez said Duterte and President-elect Ferdinand "Bongbong" Marcos Jr. would be "on solid ground" to achieve their vision, given that they won by a majority.
"I have seen up close the synergy between them, their limitless energy, dynamism, dedication to their job, and their compassion, and I have no doubt that they will succeed," Romualdez said.
Albay Rep. Joey Salceda congratulated Duterte on her historic victory as she garnered the largest number of votes garnered by any elected official in the country, and the largest vote share at 61.53 percent by a candidate for President or Vice President since the late president Ramon Magsaysay.
"Right from when we were together in the Regional Development Council meetings in around 10 years ago, I have always known that she was made of leadership mettle. I was the least surprised of all when people began to look to her for national leadership," Salceda, who was in Davao City, too, said in a statement.
He praised Duterte on her performance in Davao, highlighting the first public hospice in the country, the first city-wide smart security system, the first world-class agricultural product that was government-induced, and the most successful development program for peace.
"I wanted the people to know that her work was the kind of governance they deserved on a national level," he said. "From the here and now, until 2028, I can feel na papunta pa lang tayo sa (we are now on the way to the) exciting part. Congratulations, VP Sara, and count on me again and always for advice, support, and friendship."
On May 25, Congress, sitting as the National Board of Canvassers, declared Marcos and Duterte winners of the May 9 presidential and vice presidential elections.
Duterte was sworn into office by Supreme Court Associate Justice Ramon Paul Hernando, the event witnessed by her parents, President Duterte and Elizabeth Zimmerman. (PNA)