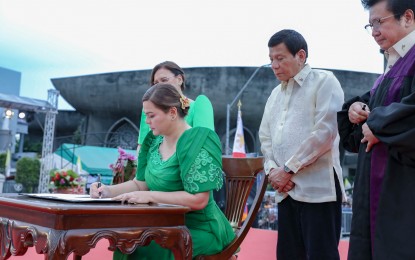 DAVAO CITY – Sara Duterte took her oath as the 15th Vice President of the Philippines before Supreme Court Associate Justice Ramon Paul Hernando at San Pedro Square here on Sunday.
Her parents, President Rodrigo Duterte and Elizabeth Zimmerman, stood by her side, while among the guests were President-elect Ferdinand Marcos Jr. and wife, Lisa; former president Gloria Macapagal-Arroyo; officials of various embassies; and incumbent and elected lawmakers.
She will officially succeed Vice President Leni Robredo on June 30.
"When I committed myself to governance and public service, I was also determined to finish three consecutive terms as mayor. That will not happen anymore. I am now the Vice President-elect," Duterte said in her inaugural speech.
She cited the life and works of national hero Dr. Jose Rizal, whose 161st birth anniversary is being commemorated, for teaching her "selflessness and sacrifice could change the country's fate and shape the children's future".
"May his memory light up the fire within us to become patriots. The bravery of Rizal completes the fabric of our identity as Filipinos," she added.
She urged Filipinos to show love for the country by taking care of their families and communities despite the unending challenges.
"May we rise together every day with the burning promise in our hearts that we love and will continue to love the Philippines as long as we live," Duterte added.
She said the voice of 32.2 million Filipinos was loud and clear, with the message for her to serve the motherland.
"And this message has been reiterated in my oath: to consecrate myself to the service of the nation. I believe the country will be heading toward a future of hope, security, strength, stability, and progress," she said.
She thanked the guests and the public who witnessed the event for taking time to celebrate with her on Father's Day.
"This is a time for families to celebrate but you are here with me. Happy Father's Day to all the fathers who make sure that another person is given the best of everything," she said.
She highlighted that a strong, loving, happy family sets down all the basic foundations essential in the development and growth of a child. "
"At home, parents have the duty to teach children the values of integrity, discipline, respect, and compassion for others," she said.
She cited that the duty of each Filipino family is to emphasize that education begins at home and not "squander the future of our children".
"I am Inday Sara. A proud Dabawenya. A proud Mindanawon. I am not the best, or the smartest person in the Philippines and in the world but nothing can beat fortitude," she concluded. (PNA)