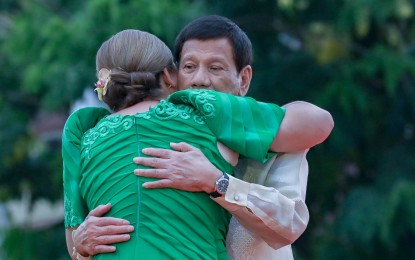 DAVAO CITY – The massive crowd that witnessed the inauguration ceremony of Vice-President elect Sara Duterte in Davao City on Sunday erupted in cheers when she tightly embraced her father, President Rodrigo Duterte, after she took her oath of office.
The younger Duterte first hugged her mother, Elizabeth Zimmerman, before doing the same to the President following the ceremony presided by Supreme Court Associate Justice Ramon Paul Hernando.
In her speech, the incoming VP expressed her gratitude to those who spent their day at San Pedro Square even if it coincided with Father's Day.
"Happy Father's Day to all the fathers who make sure that another person is given the best of everything," she quipped.
The embrace is in contrast with reports that father and daughter are not on good terms as the President was not consulted regarding her political plans.
Before the May 9 polls, former presidential spokesperson Harry Roque explained that there was no problem between the two.
"Medyo syempre nagtatampo dahil hindi siya nakonsulta pero alam ninyo, si Mayor Sara, paboritong anak 'yan ng Presidente (He is a bit disappointed that his daughter did not consult her but let us remember, Mayor Sara is his favorite child)," Roque said then.
Like all other families, Roque said the Dutertes also have occasional disputes but remains loving toward each other.
"Minsan may tampuhan pero walang kaduda-dudang nagmamahalan ang mag-ama (Sometimes there are misunderstandings but there is no doubt that they love each other)," he added.
In her inaugural speech, Sara Duterte emphasized the importance of families in rearing children.
She said society faces challenges such as the "winding cycle of poverty, trauma of broken families, life-long baggage because of irresponsible and bad parenting, abandonment issues due to an absentee parent, anguish of gender confusion and discrimination, destruction brought about by drugs, lure of easy money in criminality, cases of HIV (human immunodeficiency virus) and other sexually transmitted diseases, failure to identify and speak up against different kinds of abuses, life altering effects of teenage pregnancy, detrimental effects of illiteracy, emotional injury of bullying, unstable mental wellness, recruitment to support terrorism, and misinformation in the internet".
"Today, our children are facing a very complex future, one that is rife with conflict and uncertainties. A strong, loving, happy family sets down all the basic foundations essential in the development and growth of a child," she said. (PNA)