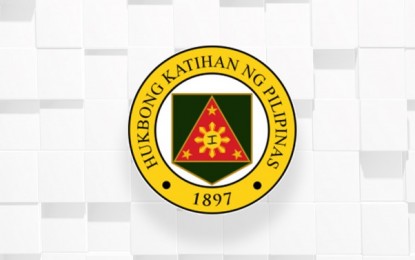 MANILA – The shooting incident inside a Philippine Army camp in Camarines Sur that killed two officers and wounded an enlisted personnel last June 18 is an isolated incident, the Army spokesperson said Sunday.
A parallel investigation is ongoing to determine the cause of the incident, Army spokesperson Col. Xerxes Trinidad said.
"This is an isolated incident. The Army does not tolerate criminal acts by its personnel and will closely cooperate with the PNP (Philippine National Police) in the conduct of investigation," Trinidad said in a statement.
Initial reports said the incident took place in the morning of June 18 at Camp Weene Martillana, the headquarters of the 9th Infantry Division's 502nd Community Defense Center, located in Barangay San Jose, Pili town.
The victim was identified as Maj. Gary Masedman, the executive officer of the 5th Field Service Finance Office, and the suspect, who shot himself afterward, was identified as Capt. Martin Anosa Jr. The injured was identified as Sgt. Manuel Colico.
In an earlier interview, Trinidad said the captain had a heated argument with his girlfriend, prompting her to go to Masedman's office to seek for help.
Unaware that Anosa followed her, the former suddenly went on rampage and shot Masedman and Colico, who was also inside the office at the time.
The camp is located near Camp Elias Angeles, the main headquarters of the 9th Infantry Division, which covers the Bicol Region.
Trinidad added that the Army puts a premium on ensuring the mental health and well-being of its soldiers.
"It has been implementing its comprehensive mental health program for the soldiers and their dependents as well," he added. (PNA)