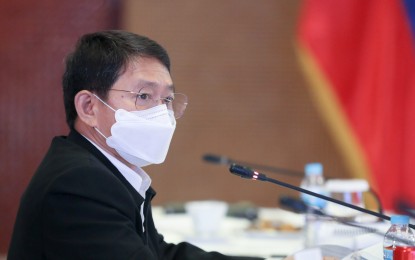 MANILA – Outgoing Department of the Interior and Local Government (DILG) Secretary Eduardo Año on Monday honored 307 police officers who died in the line of duty.
During Monday's flag-raising ceremony at the PNP headquarters in Camp Crame, Quezon City, Año said of the figure, 56 were killed in the drug war, 160 in anti-criminality campaigns and 91 in counter-insurgency and counter-terrorism drives.
Among those included are Staff Master Sgt. Jason Magno who was killed after using his body to cover a grenade thrown by a suspect in a school in Misamis Oriental in November 2019.
"Magno's bravery is a story like no other as he showed his willingness to save many others even if he knew that such an act would take his own life,'' Año said.
In June 2019, Master Sgt. Conrado Cabigao Jr. from the Police Regional Office in Southern Tagalog was killed while posing as the buyer of illegal drugs in an anti-narcotics operation.
In the transaction, Cabigao exercised restraint and maximum tolerance to capture the drug pusher alive but paid the price when the suspect shot him dead after sensing that he was dealing with a police officer.
"Cabigao's tragic experience is indeed a classic example of how life-threatening drug operations are but our policemen still brave the operations for our war on drugs,''Año said.
In Feb. 2020, Cpt. Efrem S. Espanto was killed in gun battle against the communist terrorist groups (CTGs).
"He (Espanto) was shot dead in a long and intense firefight while conducting major combat and clearing operations. Espanto's account of heroism is a solid proof of how dedicated our personnel are even if that means giving everything they can for the neutralization of CTGs,'' he said.
He said Magno, Cabigao and Espanto are just three of the 307 fallen troops who sacrificed their lives in the name of public service.
Meanwhile, he called on police officers to keep their integrity intact by being honest in performing their duties.
"Keep in mind that no amount of money or any material in the world can and should measure up to your integrity as a police officer. Temptations will be plenty and will be difficult to resist, but remember that people's respect grows from the honesty that you demonstrate and maintain when no one is watching," Año said.
This is his last command visit to the headquarters before stepping down on June 30.
He also asked the police force to rally behind the incoming administration of President-elect Ferdinand "Bongbong" Marcos Jr. and DILG secretary-designate Benhur Abalos. (PNA)