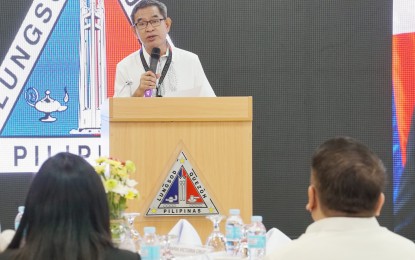 MANILA – From 13 steps and a processing time of 33 days, starting a business in the country can be done in one step within seven days through the Philippines Business Hub (PBH).
This, as the Anti-Red Tape Authority (ARTA) and other government agencies launched the PBH, a revamp of the Central Business Portal (CBP).
During the PBH launch Monday at the Quezon City Hall, ARTA officer-in-charge Ernesto Perez said the PBH is the "best platform" for all business-related government information and transactions, such as securing a business permit, licenses, and clearances.
Perez encouraged those who would register their businesses -- be it a company, sole proprietorship, or cooperative -- to use the PBH, as this is a centralized platform that bridges various processes in different government offices.
While promoting streamlining and digitization in the government, this also helps in eliminating the long queues in government agencies in processing business-related documents.
"When you start a business, you want to start good," Perez said. "What we can do but really to provide for the right environment for those people."
He added that making it easy for enterprises to start their business helps in creating more jobs for Filipinos.
"Starting a firm efficiently has a positive social and economic impact… making it easier to start a business has been connected to a rise in the number of newly registered businesses or firms, as well as increased employment and productivity levels," he said.
Trade Undersecretary Ireneo Vizmonte said the Department of Trade and Industry (DTI) is optimistic that this initiative of streamlining and digitization of government processes and services will be continued in the next administration.
"We're optimistic that the next administration will give priority to this completion of this process in compliance with the law," Vizmonte said, pertaining to incoming DTI Secretary Alfredo Pascual's pronouncement that digitization in government will be a priority during his leadership.
Through the PBH, the government envisions that the process and period of starting a business will be cut to one step and one day.
Department of Information and Communications Technology (DICT) acting Secretary Emmanuel Rey Caintic said the PBH will be rolled out nationwide.
Quezon City is the pilot city for the PBH, with Valenzuela City and Parañaque City going on board next.