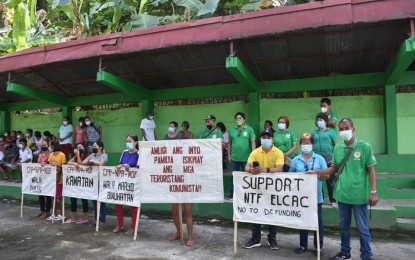 MANILA – Being a United Nations (UN) official does not give one the blanket authority to malign the Philippine government, especially if the allegations are false.
In a statement on Monday, National Task Force to End Local Communist Armed Conflict (NTF-ELCAC) acting spokesperson Flosemer Chris Gonzales said Mary Lawlor, UN Special Rapporteur on Human Rights Defenders, is ignorant of the real human rights situation in the Philippines and her views are biased and prejudiced.
"May we remind you Ms. Lawlor, your position as UN rapporteur is not a blanket authority to malign a free and sovereign state like the Philippines," Gonzales said.
"You are also informed that it is not your job to interfere in our justice system and in the security concerns of this country. It is not your job to tell our National Security Adviser how to do his job," he added.
In her tweet on Sunday, Lawlor said that she heard worrying news about human rights defenders in the Philippines being targeted by the government.
She called on the Philippine government to stop the attacks and instead, promote and protect the work of human rights defenders like Karapatan and Gabriela.
The NTF-ELCAC said Lawlor is clearly ill-advised.
"Her statement lacks fair and comprehensive research. Her appeal is clearly out of line," he said.
According to Gonzales, it is clear that Lawlor has not been to communities that have become victims of heinous crimes committed by the Communist Party of the Philippines-New People's Army-National Democratic Front (CPP-NPA-NDF) and its allied organizations masquerading as human rights defenders.
"It is sad, if not tragic, that the UN Special Rapporteur lost all sense of objectivity in issuing a statement that is full of bias, prejudice, and literally maligns the Philippine government," Gonzales said.
He told Lawlor that the real victims of human rights violations in the country are working with the government against the very same people and groups that she wrongly calls human rights defenders.
"In our opinion, you have overstepped your boundaries and have trampled upon our dignity as a people. You do not malign the government with your baseless allegations. That is simply unacceptable to us. At the very least, you owe it to yourself to know the facts," he said.
The charges filed by the National Security Council against those Lawlor's so-called defenders are based on facts and as a rapporteur, the least she can do is verify firsthand everything she hears and reads.
"While she has the freedom to express her sentiments and her opinions on the subject matter, it is also our right to inform her that her allegations against the Philippine government are false," Gonzales said.
The CPP-NPA is listed as a terrorist organization by the United States, European Union, the United Kingdom, Australia, Canada, New Zealand, and the Philippines.
The Anti-Terrorism Council also formally designated the NDF as a terrorist organization on June 23, 2021, citing it as "an integral and inseparable part" of the CPP-NPA that was created in April 1973. (PNA)