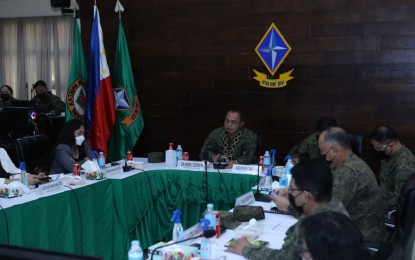 MANILA – The government's capability to address all aspects of the communist insurgency was greatly enhanced by the establishment of the National Task Force to End Local Communist Armed Conflict (NTF-ELCAC), Armed Forces of the Philippines (AFP) chief Gen. Andres Centino said Tuesday.
"When the NTF-ELCAC was established through EO (Executive Order Number) 70, it strengthened our collective effort addressing all facets of insurgency," he added in a statement.
Centino also recalled the difficulty of sustaining gains and efforts before the issuance of EO 70 by President Rodrigo Duterte in 2018.
EO 70 institutionalizes the collective participation and action of all government development efforts and services to support, facilitate and pursue the country's peace agenda.
"This (EO 70) allowed us in the security sector to focus on the armed group, while in the past, the AFP and the PNP (Philippine National Police) were doing a lot of things that are not our core functions. Now, the accomplishments of our troops on the ground are unprecedented because we are now focused on what we do best," Centino said.
On Monday, Centino joined top national government and local officials in the second quarter Regional Task Force to End Local Communist Armed Conflict Region 10 (RTF-ELCAC 10 ) meeting in Cagayan De Oro City.
The objective of the meeting is to review the accomplishments in the previous quarter and to discuss existing and future peace and development programs of the RTF-ELCAC 10.
Among the matters discussed for adoption is the conduct of Serbisyo Caravan and priority development programs and projects for Moro Islamic Liberation Front communities in Munao and Tagoloan, Lanao Del Norte.
Updates on the peace and development initiatives of the government such as the Convergence Areas for Peace and Development, Local Government Support Fund-Support to Barangay Development Program, Retooled Community Support Program, and Capacitating Urban Communities for Peace and Development Program in the Region were also presented.
NTF-ELCAC executive director and National Commission on Indigenous Peoples chairperson Allen Capuyan also presented updates on the national implementation of E0 70 and its ways forward beyond June 2022. (PNA)