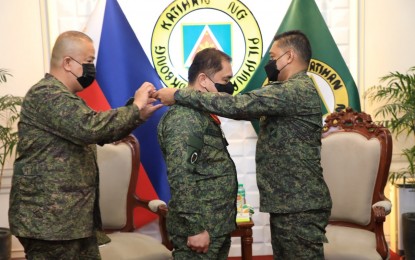 MANILA – The Philippine Army (PA) donned the rank of reserve lieutenant colonel to National Housing Authority (NHA) general manager Marcelino Escalada Jr.
In a statement Tuesday, Army spokesperson Col. Xerxes Trinidad said Escalada also received the Meritorious Achievement Medal during the rites held at the PA headquarters in Fort Bonifacio on Monday.
PA chief Lt. Gen. Romeo Brawner Jr. lauded Escalada for his vital role in the implementation of improved housing programs that aided thousands of Filipinos, including military personnel.
"While it is his passion that drove him to service, it is his devotion that prompted him to spare part of his time and energy in order to support the Army," Brawner said.
He added that Escalada also looked after the welfare of troops by providing housing projects that would benefit not only the Army but also "our other brothers-in-arms in the AFP".
Established on July 31, 1975, the NHA is a government-owned and controlled corporation responsible for public housing in the Philippines.
It is an attached agency of the Department of Human Settlements and Urban Development. (PNA)