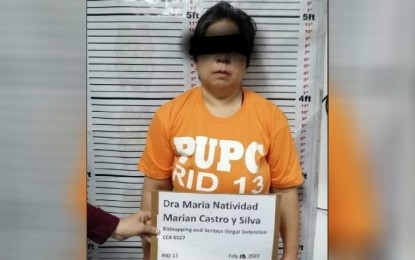 MANILA – A warrant of arrest was issued by an Agusan del Sur judge against a doctor, with suspected links to the New People's Army (NPA) , for the same charges that were slapped against her and later dropped.
In an order dated June 16, Judge Ferdinand Villanueva of the Bayugan City, Agusan del Sur Regional Trial Court (RTC) Branch 7 issued an e-warrant against Dr. Maria Natividad Castro for kidnapping and serious illegal detention. and set aside an earlier order that junked the cases against her.
The doctor is included in the indictment anew as "based on court records, Dr. Castro was not yet arraigned, thus double jeopardy will not apply".
The court added Castro's claims are best taken up in a full-blown trial.
"(E)videntiary matters and the identification is to be made during the trial where the witness and the accuse(d) will come face to face," the court said.
Castro, 53, was nabbed in San Juan City on February 18 on the basis of a legitimate and judicially issued court warrant.
She was released after 42 days when Bayugan RTC Acting Presiding Judge Fernando Fudalan Jr. ruled that prosecutors failed to issue a subpoena for the preliminary investigation of her case, violating Castro's right to due process; and the preliminary investigation showed she was not included in the original complaint.
The cases against co-accused Manuel Anob (alias Masayod/Salem), Toto Anob (alias Dongkot), and Imelda Rambuyod (alias Aloy/Sandara) were retained.
The complainant, Bernabe Salahay, said Castro was with his abductors on Dec. 19, 2018.
He and fellow victim, AJ Reginal, were eventually released on Feb. 18, 2019 in Sitio Kaunlaran, Barangay Tagbongabong in Remedios Trinidad Romualdez, Agusan del Norte.
Salahay said he personally saw Castro treating a wounded NPA member.
He and Reginal were among a number of Citizen Armed Force Geographical Active Auxiliary members abducted by the NPA to entice the government to resume peace talks.
In reviving the case, the court also reminded the defense to refrain from hurling insults at the prosecution.
"This is in violation of the Code of Professional Responsibility to wit: Counsel should limit its argument to the issue at hand," the court said.
After her arrest in February, Communications Undersecretary Lorraine Marie Badoy, National Task Force to End Local Communist Armed Conflict (NTF-ELCAC) Spokesperson for Sectoral Concerns, said Castro (alias Ka Yammy/Ka Ami/Dok) is not a simple member of a terrorist organization.
"She is a Central Committee member of the CPP-NPA-NDF (Communist Party of the Philippines-NPA-National Democratic Front). She is also secretary general of a terrorist front, Karapatan-Caraga that lawyers for NPA [rebels]," Badoy said in a statement.
Commendable
NTF-ELCAC commended the "competence, zeal, patriotism, and commitment" of the prosecutors of the Caraga Region to achieve lasting peace.
Flosemer Chris Gonzales, Acting Spokesperson for Legal Affairs, said in a statement on Tuesday that Castro and her co-accused will have their day in court and shall be afforded all the rights and privileges of an accused as enshrined in the Constitution.
He called on Castro's supporters to respect the rule of law and let due process take its course after some vented their ire on Badoy.
The CPP-NPA is listed as a terrorist organization by the United States, European Union, the United Kingdom, Australia, Canada, New Zealand, and the Philippines.
The Anti-Terrorism Council also formally designated the NDF as a terrorist organization on June 23, 2021, citing it as "an integral and inseparable part" of the CPP-NPA that was created in April 1973. (PNA)