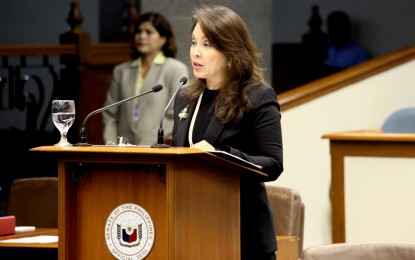 MANILA –The programs under Republic Act (RA) 11293 or the Philippine Innovation Act has not received their PHP1 billion annual grant since the law was signed in 2019.
Returning Senator Loren Legarda said on Tuesday she will push for an amendment to the 2023 General Appropriations Act if she sees no funding for RA 11293, which she authored, in the National Expenditure Program.
"What are we debating and writing good legislation for if we are not funding it? Innovation is the way of today and tomorrow. You cannot totally ignore the Philippine Innovation Act," Legarda said in her keynote message at the Innovations in Public Engagement Conference held at Dusit Thani Manila in Makati.
RA 11293 aims to strengthen, promote, and develop an innovative and entrepreneurial ecosystem and culture in the Philippines.
It focuses on providing benefits and removing constraints in order to encourage the establishment and operation of innovative new enterprises and businesses crucial to their growth and expansion.
Lead agencies Department of Trade and Industry (DTI), Department of Science and Technology, and Department of Information and Communications Technology are tasked to closely coordinate and monitor programs and other forms of support for startups and startup enablers.
The Philippine Startup Development Program will be at the center of the law's implementation, together with its other benefits, such as Startup Venture Fund, Grants-in-aid, subsidies, Startup BOSS (Startup Business One-Stop Shop), and Startup Investment Development Plan, according to the DTI.
Legarda said the law addresses the pressing needs of, among others, micro, small, and medium enterprises.
"Laws and regulations can only be effective if we involve the local community or the stakeholders in all phases of its development and implementation," she said in her speech.
Last year, the DTI said it has received no funding for its innovation programs.
"When it comes to the innovation program, it really needs to be supported. Right now, we're not really getting the support or the budget needed," DTI Secretary Ramon Lopez said during a Senate hearing.
Lopez said government projects for innovation rely on funds sourced elsewhere since funding from the 2021 budget went to training initiatives.
National Economic and Development Authority Secretary Karl Kendrick Chua previously said that to enhance the country's innovation capacity, all government agencies are mandated by RA 11293 to comply with the National Innovation Agenda and Strategy Document, which is being developed by the National Innovation Council (NIASD).
"A strong economic foundation built on inclusive innovation will be crucial in raising overall productivity and bringing prosperity to the people. The Philippine Innovation Act provides us with a window of opportunity to achieve this objective by creating a culture of future planning and funding innovative solutions," Chua said in a statement
NIASD will establish the country's 10-year vision, long-term goals, agenda, and strategies related to innovation. (PNA)