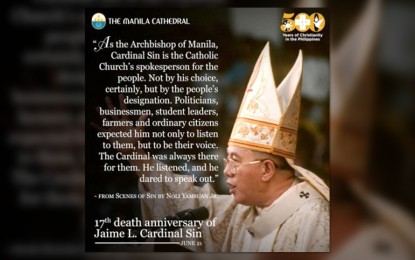 MANILA – The Manila Cathedral on Tuesday commemorated the death anniversary of its former archbishop Jaime Cardinal Sin.
In a statement, the cathedral paid tribute to Sin and his role in the restoration of democracy in the country during the 1986 People Power Revolution.
"Politicians, businessmen, student leaders, farmers, and ordinary citizens expected him not only to listen to them but to be their voice. The Cardinal was always there for them," the cathedral said in an infographic quoting an excerpt from the book "Scenes of Sin" authored by Noli Yamsuan Jr.
Sin was the 32nd Archbishop of Manila, which he served for 29 years.
Pope John Paul II retired him as Manila archbishop in September 2003, a month after celebrating his 75th birthday.
He passed away in 2005 at the age of 76.
The Manila See is composed of the dioceses of Cubao, Pasig, Parañaque, Kalookan, and Novaliches. (PNA)