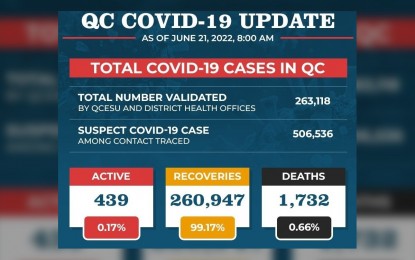 MANILA – Quezon City has recorded a 20-percent increase in active Covid-19 cases in two days.
From 365 active infections on Sunday, QC's tally jumped by 20 percent to 439 on Tuesday, or 0.17 percent of the overall confirmed cases of 263,118.
Fatalities have remained at 1,732 since June 14.
In a statement, the City Epidemiology and Surveillance Unit reminded anew about adherence to minimum health protocols like avoiding crowded places, maintaining one to two-meter physical distancing, frequent use of alcohol or washing of hands, and wearing of face masks.
As the city is under "yellow" status, which means a surge may happen in the next two weeks, Mayor Joy Belmonte has ordered all 142 villages to strictly implement the order to wear masks, with assistance from the Department of Public Order and Safety and Task Force Disiplina (Discipline).
On Monday, the Department of Health said the daily average of Covid-19 cases went up by 82 percent from June 13 to 19.
From 340 per day from June 6 to 12, the number rose to 436 daily from June 13 to 19.
Health Undersecretary Maria Rosario Vergeire, however, assured there is no surge yet.
Dr. Guido David of the OCTA Research Group also tweeted on Tuesday that the seven-day average in the National Capital Region increased from 131 the previous week to 225 on June 14 to 20.
Hospital occupancy remained low at 22 percent.
"Expecting 500 to 1, 000 cases per day by end of June and possibly 1k to 2k by first week of July. I am expecting the peak to happen around that time. Let us all be careful and practice health protocols," David tweeted.
Villages still compliant
Meanwhile, the Department of the Interior and Local Government (DILG) said villages continue to be compliant with health protocols, especially with the national government's mask mandate.
In a Laging Handa briefing Tuesday, DILG Undersecretary for Barangay Affairs Martin Diño said no villages have so far expressed desire to make the wearing of face masks optional.
"Our barangays are obedient because they know that the suffering has been going on for more than two years. Just imagine, their efforts will be wasted -- the villages will be on lockdown and all must stay at home. Only those who were issued with a quarantine pass can go out. We don't want to go into that situation anymore, so we need to open up the economy," Diño added.
Diño also assured the continuity of the government's Covid-19 vaccination program, especially in the barangays and other areas with low inoculation rates.
He said they are now concentrating on convincing the public to get their booster shots after completing their primary Covid-19 vaccines to further protect them against the virus.
"Actually, may order kami na tingnan ang lahat nang hindi pa nagpabakuna and at the same time engganyuhin sila na magpabakuna (we received orders to look for the unvaccinated individuals and convince them to get the vaccine),'' he added.
He also supported the call to permit only the entry of individuals with Covid-19 booster shots inside air-conditioned rooms.
This is aside from the numerous incentives provided by the different local government units to entice more people to get Covid-19 jabs. (with Lloyd Caliwan/PNA)