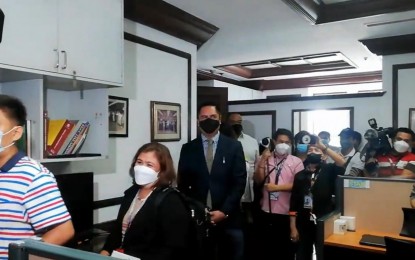 MANILA – The Presidential Communications Operations Office (PCOO) on Tuesday officially welcomed reporters and other media workers back into the newly renovated press briefing room and working area at the New Executive Building (NEB) at Malacañan Palace.
The press briefing room and press working area were both closed during the onset of the Covid-19 pandemic in March 2020 to help prevent the spread of infections.
Instead, virtual Palace press briefings were regularly held to make announcements and take questions from reporters. However, inperson press briefings have yet to be resumed.
The PCOO only started renovating the press briefing room and press working area in April this year. It will start allowing reporters and other media workers to enter on Wednesday.
Outgoing PCOO Secretary and acting presidential spokesperson Martin Andanar led the blessing ceremony of the newly renovated rooms.
In his speech during the event, Andanar took pride in how the Duterte administration "transformed" how media workers and information officers gathered and disseminated information.
He also mentioned his agency's accomplishments such as upgrading facilities, providing training to their employees, adapting to technological advancement, and improving internal operations.
"Through hard work and dedication, we were able to create and implement a Duterte Legacy in PCOO, and that is delivering accurate and timely information to those who need it most—the Filipino people," he said.
He expressed hope that the PCOO's stronger relationship with media organizations would continue until the next administration.
"We successfully brought together the news media industry that gave our President the chance to share his message directly with the public. We hope this will be one of many positive changes that will be sustained in the coming years," he added.
Andanar thanked PCOO officials and staff members for supporting his push for initiatives undertaken during his term as the agency's chief, noting that it has been a "privilege" to work with them.
He also turned over equipment for the press briefing room and press working area such as air purifiers, coffee makers, desks and chairs, among others to officers of the Malacañang Press Corps, a group of mainstream media journalists accredited to cover the President. (PNA)