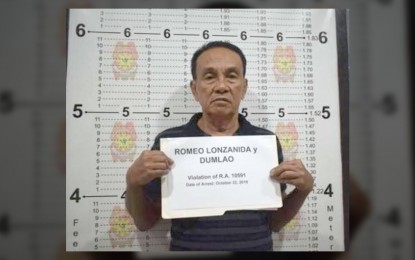 MANILA – A former Zambales town mayor already serving time at the New Bilibid Prison in Muntinlupa City for falsification of documents was fined by the Sandiganbayan in connection with irregularities in the management of public funds.
The anti-graft court's Second Division ruled that former San Antonio town mayor Romeo Lonzanida is guilty of "failure of an accountable officer to render accounts" and sentenced him to pay a fine of PHP2,000 and civil liabilities to the government amounting to PHP275,000.
Lonzanida was arraigned through videoconferencing and pleaded guilty to the charges.
Based on the June 10 decision recently shared online, Lonzanida failed to liquidate and render an accounting of the cash advance he received in 2009 for payment of intelligence expenses amounting to PHP275,000.
Under Commission on Audit rules, he was supposed to submit a liquidation report by the end of the year.
In 2009, the Supreme Court's First Division upheld Lonzanida's conviction by the Sandiganbayan on 10 counts of falsification involving parcels of 117 hectares of public land in Barangay Pundakit, San Antonio, Zambales.
The former mayor notarized 13 Affidavits of Ownership but the purported affiants either denied executing and signing the same or were minors.
The SC said it "finds no reason to disagree" with the 2003 Sandiganbayan decision sentencing the mayor to up to eight years in prison and a fine of PHP5,000 for each count.
Lonzanida went into hiding for 10 years but was finally arrested on Oct. 22, 2019 when authorities raided his house in Barangay Burgos, San Antonio, Zambales and found high-powered firearms.
He was 85 years old then.
In 2007, the anti-graft court's Fifth Division acquitted Lonzanida but convicted then-municipal treasurer Cecilia Legrama of malversation amounting to PH1.152 million dating back to 1996. (PNA)