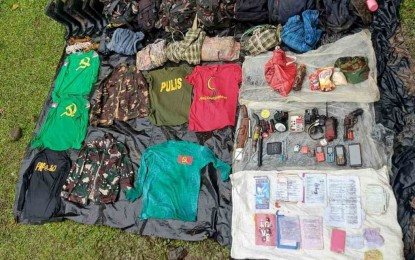 MANILA – Nothing will stop the National Task Force to End Local Communist Armed Conflict (NTF-ELCAC) from unmasking front organizations of terrorist groups as it stays true to its mandate to stopping more than 50 years of insurgency.
Presidential Communications Undersecretary Lorraine Badoy, also the NTF-ELCAC spokesperson for Social Media Affairs and Sectoral Concerns, cited a complaint filed before the Professional Regulation Commission, seeking to revoke her certificate of registration as a physician over repeated "red-tagging" allegations.
The Alliance of Health Workers (AHW) again asked for the revocation of Badoy's license, claiming she violated the code of conduct and ethical standards of the medical profession with "her incessant red-tagging not just of fellow health workers, but also of different sectors."
The group insisted that Badoy's "unfounded and baseless claims especially violate the principles of respect for life and for person, and expressly goes against the principle of doing no harm".
"Therefore, her actions of red-tagging are unethical, and cause substantial harm to the lives not just of the accused, but also their families and those they work with," the group added.
In a statement on Tuesday, Badoy said "no one is red-tagging anyone".
"How is it possible that supposedly learned people have not heard that red-tagging is non-existent and that our Supreme Court has clearly ruled that there is no danger to life, liberty and security when one is identified as a member of the CPP-NPA-NDF (Communist Party of the Philippines-New People's Army-National Democratic Front)?" she said.
Badoy fired back at the AHC members, saying they are the ones violating the Hippocratic oath
"Primum non nocere (First, do no harm). As doctors, we are now being asked to heal our country of this 53-year malignancy that has spread its deadly tentacles through all sectors of our society," she said.
"So let us be clear about one thing here. When we clearly identify fronts and members of the CPP-NPA-NDF, we at the NTF ELCAC are preventing grievous harm to our people," she added.
Communist supporter
NTF-ELCAC Acting spokesperson for Legal Affairs, Flosemer Chris Gonzales, had the same message for Kabataan party-list Rep.-elect Raoul Manuel.
"As for your wish to abolish the NTF-ELCAC, continue your nightmare, Raoul Manuel, because the NTF-ELCAC is here to stay. We exist to serve the needs of the poorest of the poor among our people. We bridge the gaps between the bureaucracy and the communities. We bring peace to conflict-stricken communities. We seek to end the CPP-NPA-NDF terrorist organization and all their allied front organizations," Gonzales said in another statement also on Tuesday.
Manuel previously said the NTF-ELCAC is just a waste of people's money and "red-tagging" cases against its officials must be pursued.
Manuel's lack of knowledge and understanding of the tasks, functions, and objectives of the NTF-ELCAC is disappointing, Gonzales said.
As a public official, Gonzales wonders if Manuel shares the agency's collective goal of ending insurgency.
"A simple yes or no question. If your answer is yes, then publicly condemn the atrocities committed by the CPP-NPA-NDF against our youth and our children. If your answer is no, then, by all means, read again your oath of office. Remember you swore allegiance to the Republic of the Philippines and to obey its laws, an oath which makes you responsible to protect this country from all enemies, the CPP-NPA-NDF included," Gonzales told Manuel.
Badoy said she is not surprised at all by Manuel's statement as the latter is a CPP-NPA-NDF operative who only follows the orders of the CPP Central Committee.
"Ang Kabataan party-list ang top recruitment agency ng mga anak natin sa teroristang organisasyong CPP-NPA-NDF (The Kabataan party-list is the top recruiter of our children to the terrorist organization CPP-NPA-NDF)," she said.
No effect
Badoy said the move of AHC is "another attempt to silence, harass and shame" the people behind NTF-ELCAC "who are tirelessly working to finally put an end to the terroristic installation of communism".
"There is nothing that will silence me and the entire NTF ELCAC from identifying members and fronts of this terrorist organization that has brought death and destruction to our country," she said.
The attacks are only a "worn-out propaganda" of the CPP-NPA-NDF, Badoy said.
"These doctors are parroting the lines of this terrorist organization and employing a tool used by these terrorists, red-tagging, to muzzle the government when we do our duty of clearly and correctly identifying the fronts of this terrorist organization so our countrymen can protect their children, who are the prime targets of the CPP-NPA-NDF, and stop them from joining this terrorist organization where countless numbers of them have lost their lives as violent extremists," she said.
What the AHC is doing, Badoy said, is to defend the "above-ground organization of the CPP-NPA-NDF that is connected to an underground organization, Makabayang Samahang Pangkalusugan (MASAPA)."
The MASAPA was recently designated by the Anti-Terrorism Council (ATC) as a terrorist organization.
"They pretend to fight for the rights of health workers but in fact, care nothing for them. Their only goal is the same goal as the CPP-NPA-NDF because the AHW and the CPP-NPA-NDF are one and the same and this is the violent overthrow of the government and the installation of communism in our beloved Philippines," she said.
"In order to achieve that, they recruit members who have no idea that they have joined a terrorist organization. They then agitate them and teach them the deeply wounding language of hate and mistrust toward the government. And when they are ripe for the picking, they are recruited into this terrorist organization," she added.
Badoy said it is only during the term of President Rodrigo Duterte where underground operations of the communist group through their legal fronts were unmasked.
"The government will no longer be silenced about these noxious terrorist fronts that have stolen what is most precious to us: our children. And we will be more relentless and fierce in yanking off of those masks these terrorists hide behind so they can deceive our children," she said.
Fearless
Badoy said she would willingly give up her license "if it means it could totally end the long-standing atrocities of the communist terrorist groups".
"[T]hose days when they could deceive and scare and silence us are long over. I laugh at their faces for trying to scare me with the revocation of my medical license. If I had a hundred medical licenses, I would give it all up if it meant the end of these communist terrorist bastards," she said.
The CPP-NPA is listed as a terrorist organization by the United States, the European Union, the United Kingdom, Australia, Canada, New Zealand, and the Philippines.
The ATC also formally designated the NDF as a terrorist organization on June 23, 2021, citing it as "an integral and inseparable part" of the CPP-NPA that was created in April 1973. (PNA)