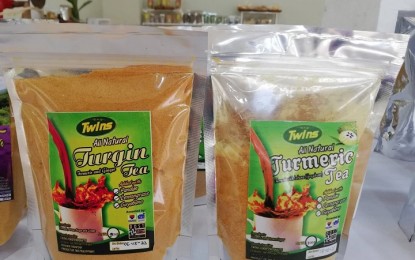 SAN JOSE DE BUENAVISTA, Antique – An entrepreneur from the province of Antique has sent all her five children to college with the help of her turmeric business.
Miguelina Villasor, 54, from Barangay La Union in San Remigio, is one of the 20 exhibitors in the ongoing exhibit at the Provincial Environment and Natural Resources Office (PENRO) building here.
In an interview Tuesday, Villasor said she considers it fortunate to have learned how to process turmeric in 2013 as before, they only relied on the income she got from selling vegetables and fruits at the public market of the nearby town of Sibalom.
Her husband worked as farm helper and performed other menial jobs to help feed their family.
"We mainly relied on the schooling of our children from selling turmeric tea or turgin (combination of turmeric and ginger) tea in the market," she said.
However, a social worker from the Department of Social Welfare and Development (DSWD) assigned with the Pantawid Pamilyang Pilipino Program (4Ps) visited them and saw that turmeric was just being thrown away.
The worker introduced to them the many health benefits of the product so Villasor took interest in it.
With the help of the Sustainable Livelihood Program (SLP) of the DSWD, she underwent training on turmeric processing, and on packaging and labeling with the Department of Science on Technology (DOST).
"I started to process 20 packs of 100 grams each turmeric per week, but now, I am able to process 100 packs or more per week," she said.
Villasor said from a weekly income of only PHP2,000, she is now earning PHP35,000 to PHP50,000 in one week.
She learned to diversify, such as infusing turmeric and ginger, as there are customers who prefer this variant.
"My eldest is now a graduate of the Bachelor of Science in Civil Engineering and employed with the DSWD KALAHI-CIDSS (Kapit-Bisig Laban sa Kahirapan-Comprehensive and Integrated Delivery of Social Services) while my second to the eldest is a graduate also of Bachelor of Science in Electrical Engineering and is working at the San Remigio local government unit," she said.
Her three other children who are all in college will also be graduating soon.
"I really consider the assistance provided by the different government agencies to my business as valuable that I am sharing it to other women in our community interested in processing turmeric or turgin tea," she said.
Each pack of 300 grams turmeric tea is sold for PHP160, turgin for PHP175, and pure ginger tea for PHP300.
There are distributors who get the products from Villasor and sell them in Metro Manila and Iloilo City.
Villasor said being a graduate of the Department of Trade and Industry Kapatid Mentor Me (KMME) program, she joins every event by the Department of Trade and Industry, including the showcase of local products in partnership with PENRO, so she could get the chance of displaying and selling her products. (PNA)