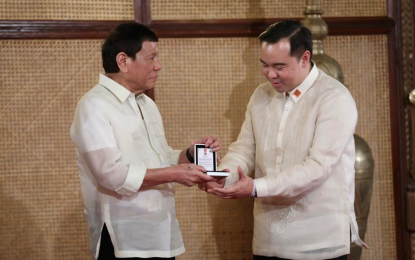 MANILA – Department of Tourism (DOT) Undersecretary Woodrow C. Maquiling Jr. received the Order of Lapu-Lapu with the Rank of Kamagi personally conferred by President Rodrigo Duterte at the Malacañan Palace on June 15.
The Order of Lapu-Lapu is a national order of merit conferred by a Philippine President to officials and personnel of government and private individuals, in recognition of invaluable or extraordinary service in relation to a campaign or advocacy of the President.
Recognized for his contributions as a grassroots worker who traced his roots to Dumaguete City, Maquiling rose to national prominence when Duterte appointed him as regional director for the DOT's National Capital Region in 2019.
He marked his 10th year in government this year which brought him to different halls of power from the Negros Oriental Provincial Capitol, to Dumaguete City Hall, the Malacañang, and finally to the DOT.
Maquiling thanked Duterte and Senator Christopher "Bong" Go, who was his superior at the Office of the Special Assistant to the President (OSAP) and likewise dedicated the award to his fellow workers at the Office of the President and DOT.
"It is with humility that I receive this award from President Duterte, and likewise dedicate this to all the selfless men and women of the tourism sector who have sacrificed life and limb at the frontlines during the pandemic," he said.
Maquiling also shared the award with his parents in Dumaguete, while acknowledging former Tourism Secretary Bernadette Romulo-Puyat, who supported him throughout his service in the DOT. (PR)