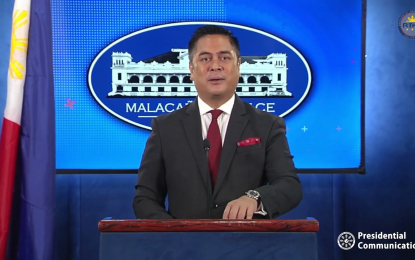 MANILA – The most difficult part about being head of the national government's lead communications arm was "reforming the entire bureaucracy," Presidential Communications Operations Office (PCOO) Secretary Martin Andanar said on Tuesday.
Andanar admitted that pushing for reforms to improve the government's communication and information services was no easy task because the agency has been neglected for so long.
"Reforming the entire bureaucracy of PCOO, and the attached agencies. That was really tough but ano naman tayo, mga (we are) media men and women naman tayo at sanay tayo sa hirap ng trabaho (and we are used to difficult jobs)," he told reporters in an interview.
On the other hand, he did not find his additional job as acting presidential spokesperson challenging since reporters and media workers prioritized the 2022 campaign and elections over the Palace.
Andanar was named acting presidential spokesperson in March while PCOO Undersecretary Michel Kristian Ablan served as acting deputy presidential spokesperson.
He said he is grateful for getting the chance to serve the nation and the public, but noted that he is looking forward to stepping down.
"Mami-miss ko kayong lahat, mami-miss ko kayong katrabaho. Mami-miss ko iyong trabaho sa gobyerno. Pero (I will miss you all, I will miss working with you. I will miss working for the government. But), six years is long," he added.
Asked about his plans when his term ends on June 30, Andanar said his "number 1 option" is to rejoin private media and spend more time with his family.
Under Andanar's leadership, the PCOO implemented policies meant to protect the welfare of media workers such as the creation of the Presidential Task Force on Media Security (PTFoMS), which helped in facilitating the decision on the infamous Maguindanao Massacre case that killed over 30 journalists and media workers.
The PCOO also pushed for the implementation of the Freedom of Information program and the promotion of transparency among offices in the Executive Branch.
It harmonized the content and messaging of government media, which gave birth to the agency's crisis communications plan "Laging Handa."
More government media facilities were established outside of Metro Manila, as part of its efforts to strengthen regional reporting such as the Mindanao Media hub, Visayas Media Hub, Government Communication Academy, and the construction of new regional offices of the Philippine Information Agency. (PNA)