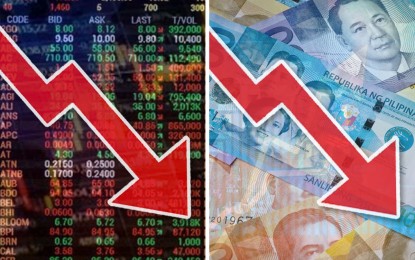 MANILA – Anticipations for additional hikes in the Federal Reserve's key rates and the correction in US Treasury yields mainly pulled down the main equities index and the peso on Tuesday.
After managing to keep its footing on Monday, the Philippine Stock Exchange index (PSEi) shed 0.77 percent, or 48.75 points, to 6,285.19 points.
All Shares also finished in the negative territory after they declined by 0.56 percent or 19.11 points, to 3,368.67 points.
Most of the sectoral gauges also declined during the day, namely Services, 1.12 percent; Holding Firms, 1.09 percent; Property, 1 percent; and Financials, 0.50 percent.
On the other hand, Industrial rose by 0.56 percent and Mining and Oil by 0.20 percent.
Volume remained thin at 885.42 million shares amounting to PHP3.97 billion.
Decliners led advancers at 94 to 87, while 53 shares were unchanged.
The local currency ended the day at 54.265 from the previous day's 54.065.
It opened the day at 54.1, a depreciation from the 53.8 start in the previous session.
It traded between 54.4 and 54.05, resulting in an average of 54.207.
Volume rose to USD1.39 billion from day-ago's USD1.02 billion.
Rizal Commercial Banking Corporation (RCBC) chief economist Michael Ricafort said the local currency finished Tuesday at its weakest since Oct. 4, 2018 when it ended the trade at 54.32.
"(This transpired) amid recent weakness in most Asean/Asian currencies amid some slight upward correction in global oil prices and US Treasury yields recently," he said in a reply to e-mailed questions from the Philippine News Agency.
Other factors that affected the day's currency trading include the continued hawkish statements from Federal Reserve officials and Fed Chair Jerome Powell's semi-annual monetary policy testimony before the US Senate Banking Committee on June 22, 2022 and the US House Financial Services Committee on June 23, 2022, he said..
"(These testimonies will be the) source of new leads, especially on the pace of future Fed rate hikes that could potentially lead to economic slowdown or even recession, or any continued hawkish Fed signals in an effort to clamp down on inflation and inflation expectations," he said.
Ricafort said the drop of the local bourse's main index to new lows in almost 11 months, or since July 30, 2022, also affected the peso, along with the rise in the number of new coronavirus disease 2019 (Covid-19) infections and the widest balance of payment (BOP) deficit since February 2021.
The Bangko Sentral ng Pilipinas (BSP) reported the May 2022 BOP position, or the statement of a country's total transaction with the rest of the world for a certain period, which is a deficit of USD1.606 billion.
With these factors, Ricafort forecasts the peso's next resistance level to be around 54.41, which he said, was posted on Oct. 4, 2018. (PNA)