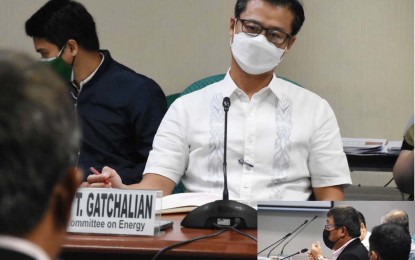 MANILA – The Senate committee on energy pushed another round of "Pantawid Pasada", a government program that distributes fuel subsidies to sectors affected by the oil price hikes.
The panel made this suggestion to the Land Transportation Franchising and Regulatory Board (LTFRB) following a consultative meeting presided over by Senate committee on energy chairperson Senator Sherwin Gatchalian on Tuesday.
"We are calling on the LTFRB to efficiently distribute the next round of Pantawid Pasada. I've heard earlier that the database is in place considering that they have already distributed this various times. We're calling LTFRB to be more expeditious in terms of the distribution," he said.
Senator Imee Marcos, a committee member, agreed with the government's economic managers who said suspending fuel excise tax is not workable at the moment.
Marcos called on her colleagues to revisit the Republic Act (RA) 8479 or the Oil Deregulation Law as suggested by the Department of Energy (DOE).
"Pag-aralan natin in aid of legislation yung Section 11, yung (Let's study in aid of legislation this) anti-trust safeguard. For the DOE, nabanggit dun (it was mentioned there) to determine an indicative retail price at saka dun sa (and there in) Section 19, may (there is a) start of full deregulation, may sinasabing (it mentioned) unbundling clause. Siguro balikan natin yan kasi parating controversial yan pero (Maybe let's review that because it is always controversial but) I think it's time to look at it also," she told the committee.
Marcos said stakeholders also question Section 5 of the law, particularly provision on the liberalization of industry mandating a 30-day inventory.
P3-K per month subsidy
In a media briefing on Wednesday, Gatchalian said he will propose a PHP3,000 per month fuel subsidy for the next five months.
He said his recommendation to expand the existing "Pantawid Pasada" program is expected to cost the government of about PHP4 billion compared to the proposal of suspending fuel excise tax.
"It's still cheaper than removing the excise tax. Excise tax is about PHP150 billion-plus," Gatchalian told Senate reporters.
Gatchalian said he is also eyeing to continue the government's "Libreng Sakay" Program.
While encouraging the government to make the subsidy distribution more efficient, Gatchalian also called for the transport sector to prepare their documents so they can claim their subsidy without any delays.
"Nakikiusap ako sa mga drivers and operators na ayusin niyo yung dokumento dahil ang pagbibigay ng ayuda diretso yan sa ating mga drivers. At kung yung drivers natin ay kulang ng dokumento, hindi sila mabibigyan ng ayuda (I am asking the drivers and operators to fix their documents because the subsidy is being given directly to the drivers. And if the drivers have lacking documents, they will not receive the subsidy)," he said.
Gatchalian expects the second round of the "Pantawid Pasada" to be more immediate considering LTFRB has the records of the beneficiaries.
"When we allocate funds, hopefully in one week, maibibigay na lahat. Kasi ang importante ngayon may card na yung mga drivers natin. So, ike-credit na lang dun sa card. Pagpunta nila dun sa ATM, makukuha na nila yung kanilang (it will all be distributed. Because the important thing now is our drivers have their card. When they go to the ATM, they can already get their) 'Pantawid Pasada'," he added.
According to LTFRB, a total of 84,157 public utility vehicle (PUV) operators have yet to receive their share of the government subsidy as of June 15.
Out of those who have yet to receive the cash grant, 57,841 beneficiaries had been processed by the Landbank of the Philippines for immediate remittance.
Meanwhile, the fuel subsidy program for delivery services under the Department of Trade and Industry has so far gathered 12,965 beneficiaries and out of which 9,552 have received the cash grant.
A total of 27,777 listed under the DTI are still being processed, the LTFRB said.
On Monday, Senator Aquilino Pimentel III appealed to the incoming administration of President-elect Ferdinand "Bongbong" Marcos Jr. to identify and remove taxes and other fees in fuel transactions to minimize the effects of surging prices of petroleum products.
Pimentel, who attended the Senate committee on energy's consultative meeting, said he will file a bill to formalize his proposal to remove excise tax on fuels.
When asked about the revenues that will be affected by the excise tax removal, Pimentel said the government should be open to belt-tightening measures.
Senator Grace Poe is also planning to refile her bill seeking to temporarily halt the collection of excise tax on oil products.
Poe said suspending fuel excise taxes will bring instant relief to the public as it will lower the prices of fuel products, resulting in the reduction of costs of goods and services.
"To our people in daily survival mode, the oil tax reprieve will provide a crucial lifeline," Poe explained worrying that the revenues that the government will generate from the excise tax to fund cash aid might come too late.
She said the measure is among the pieces of legislation that she will file in the incoming 19th Congress. (PNA)