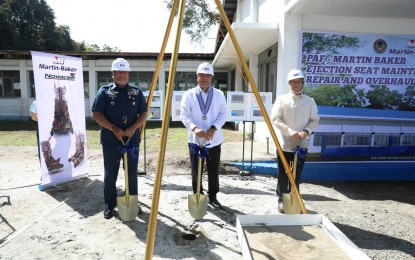 MANILA – The Philippine Air Force (PAF) will soon have the capability to inspect and repair the ejection systems of its various fighter and attack aircraft, a measure that would ensure the safety of its pilots.
This will be possible with the establishment of the Martin-Baker maintenance, repair, and overhaul (MRO) facility at the Basa Air Base in Floridablanca, Pampanga, which began construction on Tuesday.
"Through the MRO facility, the PAF will cater to the supply and distribution of services for the maintenance, overhaul, and repair of egress components of FA-50PH, AS-211, and A-29 'Super Tucano' aircraft," Air Force spokesperson Col. Maynard Mariano said in a statement
The FA-50PH light jet fighters are considered the most advanced aircraft in the PAF while the SIA-Marchetti AS-211 acts as trainer jet and attack aircraft along with the newly acquired A-29B close-air-support planes.
Egress components, also known in Air Force parlance as ejection systems, are used by pilots to safely propel themselves out of malfunctioning or badly damaged aircraft.
These serve as a piece of lifesaving equipment for pilots flying fighter and attack aircraft.
The Martin-Baker MRO facility would help the PAF address the operational and logistical challenges affecting aircraft readiness as it will serve as a one-stop shop for the maintenance, repair, and overhaul of ejection system components. (PNA)