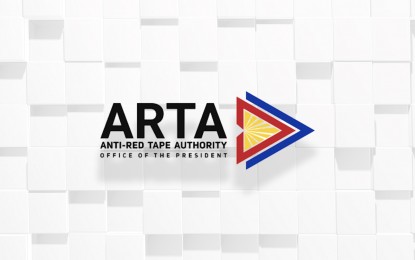 MANILA – The Anti-Red Tape Authority (ARTA) wants a three-fold increase in its budget in the next administration to at least PHP800 million.
ARTA director Rabindranath Quilala said on Tuesday that the agency would need a higher budget to establish more field offices across the country.
Quilala said ARTA targets to initially open eight offices nationwide to bring closer the agency's services to other parts of the country.
"In fact, we have already launched two of our offices, and about to be three before the term of President Rodrigo Duterte ends," he said.
ARTA recently opened its Northern Luzon regional field office in Baguio City and Eastern Mindanao regional office in Davao City.
Quilala said the Eastern Mindanao regional office in Zamboanga is expected to open soon.
He said ARTA eyes to establish regional offices in Cagayan de Oro for Eastern Visayas, Cebu for Western Visayas, San Fernando in Pampanga or Clark for Central Luzon, and Batangas or Laguna for Southern Luzon.
ARTA's budget for 2022 is at PHP270 million. (PNA)