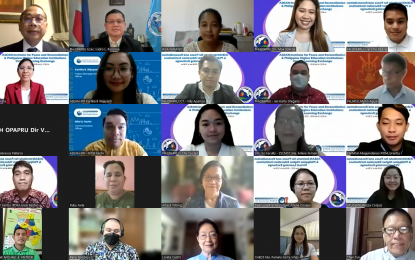 MANILA – The Office of the Presidential Adviser on Peace, Reconciliation and Unity (OPAPRU) on Wednesday acknowledged the importance of mainstreaming peace education in partnership with higher education institutions (HEIs).
In a statement, the OPAPRU bared it has been providing "a space for evidence-based conversations on peace, conflict and security concerns" in order to identify key problems affecting the implementation of peace education in HEIs -- called "conflict profiling."
The OPAPRU has been conducting a series of planning sessions with the representatives from the Commission on Higher Education, its peace partners, and 15 peace-promoting HEIs in the country, as part of its efforts to promote the culture of peace within academic communities.
OPAPRU director Mae Ballena, who also heads the agency's Knowledge Management and Peace Institute Service (KMPIS), cited the need to highlight the key role of the academe in building a culture of peace, particularly in conflict-afflicted areas.
"Mainstreaming Peace Education is really a whole of society effort and the more people we can engage to join us in this cause, the more effective we will be," Ballena said.
Dr. Rejie Palmos, director of the West Visayas State University – Center for Peace Education (WVSU – CPE), earlier emphasized the crucial part of cultivating inner peace among educators.
"In the many content areas of peace education, we will always have to go back to the cultivation of inner peace. No matter how good we are at delivering the content, the medium will always speak the message. You cannot share what you do not own," Palmos said.
The OPAPRU-KMPIS has also pushed for a virtual learning exchange between the Association of Southeast Asian Nations-Institute for Peace and Reconciliation (Asean-IPR) and Philippine HEIs.
Deputy Presidential Adviser on Peace, Reconciliation, and Unity (DPAPRU) for Operations, Undersecretary Isidro Purisima, cited that Asean member states "are bound by the same commitment and responsibility" to strengthen regional peace and security and uplift the socio-economic well-being of its people.
Meanwhile, OPAPRU Secretary Carlito Galvez Jr. said creating a strong link between ASEAN-IPR and Philippine education institutions can contribute to establishing a better Asean region.
Galvez said the virtual learning is aimed "to expand the constituency for peace and establish linkages between and among Asean-IPR and various HEIs in the Philippines toward future collaboration on peace promotion, exchange of expertise, and mainstreaming of peace education in academic institutions." (PNA)