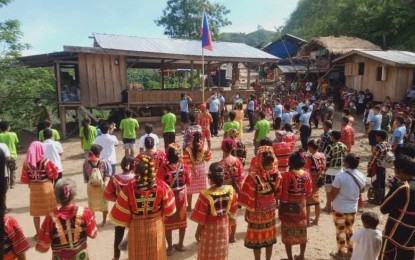 MANILA – The government is looking into the formulation of a healing and reconciliation framework for indigenous peoples (IPs) to further boost the local peace engagements and interventions nationwide.
The Office of the Presidential Adviser on the Peace, Reconciliation and Unity (OPAPRU) on Wednesday said the framework will be divided into five phases including Trust-Building and Acceptance; Mainstreaming Systemic Conflict-Transformation; Implementing a Conflict-Sensitive and Peace-Promoting Results Framework; Learning Together; and Empowerment of Indigenous Peoples.
The creation of the framework, spearheaded by the OPAPRU, primarily aims to highlight the "inclusive and collaborative approach" in addressing issues concerning the IP communities as well as the transformation program for former members of the communist terrorist groups (CTGs).
Rowena Lopez, acting head of OPAPRU's Policy, Governance and Strategic Planning Service (PGSPS), in a statement, said the framework will be formulated with other national government agencies (NGAs), including the National Commission on Indigenous Peoples (NCIP), provincial local government unit, as well as members of the IP tribes—insights and recommendations will be inclusive to all.
"OPAPRU's mandate is to implement initiatives to foster unity and reconciliation. But our agency cannot do it alone. We need to utilize a whole-of-nation approach whereby all sectors – line agencies, LGUs, and the security sector will help in crafting this HR framework," Lopez said.
"The presence of representatives from LGUs, the security sector, and IP communities is proof that you want to bring forth changes on how we carry out peace-building and development interventions in IP communities," she added.
The OPAPRU said the framework can contribute to implementing processes and interventions such as Localized Peace Engagements (LPE), Social Healing and Peacebuilding (SHAPE) initiatives, and PAyapa at MAsaganang PAmayanan (PAMANA) program.
The framework document will be cascaded to select communities for validation and is targeted to be finalized by August this year. (PNA)