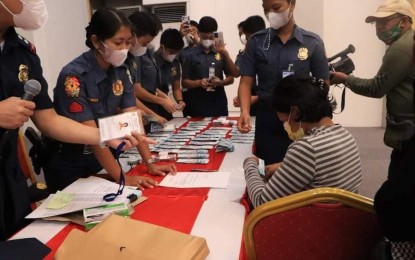 BAYBAY CITY, Leyte – Policemen from three regional offices in the country have donated nearly PHP2 million to families badly affected by recent killer landslides in Baybay City and Abuyog, Leyte.
Brig. Gen. Bernard Banac led the turnover on Wednesday of the PHP1.85 million cash aid to the two local governments during a program held at the Baybay Convention Center in Baybay City.
In Abuyog town, some 139 displaced families received PHP6,072 each. In Baybay, eight families got PHP6,072 each and another 159 families received PHP6,073 each.
Of the PHP1.85 million cash aid, PHP600,000 are from Cagayan Valley police regional office, PHP1.07 million from Cordillera police regional office, and PHP187,926 from Bicol police regional office.
"I am beyond thankful to these police regional offices for extending their help to our constituents in Abuyog and Baybay, Leyte. To our recipient families, may the cash assistance somehow alleviate your burden in your daily needs. We, in the PNP are just here to be of support. Let us pray that this kind of adversity never come again," Banac said.
One of the recipients is Juditha Loreto Abellar, 40, a resident of Kantagnos village whose house was buried by landslide debris.
"Thank you for all the generous policemen. We will use this money to buy the daily needs of our family. We lost everything when the landslide struck our village," Abellar said.
Abellar is one of 524 individuals from Kantagnos village taking shelter inside the classrooms of Baybay City Senior High School while waiting for the completion of temporary houses.
The temporary housing funded by the Office of the Civil Defense (OCD) is being constructed by the Philippine Army engineering brigade.
The OCD provides construction materials and shoulders the construction cost while the local government units of Baybay and Abuyog identified sites for the temporary shelters.
On April 10, at least 128 people died due to several landslide incidents in Baybay City. Two days later, a village in Abuyog was wiped out by a landslide killing at least 58 residents.
The Mines and Geosciences Bureau (MGB) regional office initially identified eight villages in Baybay City as danger zones after showing early signs of landslides.
The MGB found the susceptibility of these communities after a thorough assessment of these areas in response to reports from residents of visible tension cracks.
The result of the assessment has been relayed to local government units for the enforcement of "no dwelling zones." (PNA)