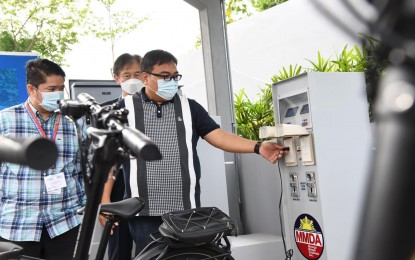 MANILA – The Metropolitan Manila Development Authority (MMDA) will soon open a free solar charging station for e-bikes and e-scooters in its new head office in Pasig City.
During the inauguration of the charging station Wednesday, MMDA chair Romando Artes said the project aimed to address rising pump prices by encouraging the use of small electric vehicles.
"Putting up free charging stations for electronic vehicles such as e-bikes and e-scooters would encourage the public to use an alternative mode of transportation and at the same time help them save expenses from high fuel cost," Artes said.
The charging station will be open to the public beginning Monday, June 27, from 6 a.m. to 7 p.m. at the new MMDA head office building in Barangay Ugong.
While its users are required to bring their own charging cables, the station will have six 220V charging outlets powered by three solar panels with a built-in inverter.
In instances where solar power is insufficient, the station is able to tap into the MMDA headquarters' power grid while excess electricity from the solar panels is also distributed back to the MMDA building.
A similar charging station may soon be built at the old MMDA headquarters in Orense, Makati City to serve those plying the Epifanio de los Santos Avenue (Edsa).
Artes called on the users of such vehicles to follow the Land Transportation Office's (LTO) Administrative Order 2021-039 or the Consolidated Guidelines in the Classification, Registration, and Operation of All Types of Electric Motor Vehicles.
Based on the maximum speed of these small electric vehicles, they may be limited to using barangay roads or inner streets while those with higher maximum speeds are required to be registered with the LTO and used with appropriate safety gear. (PNA)