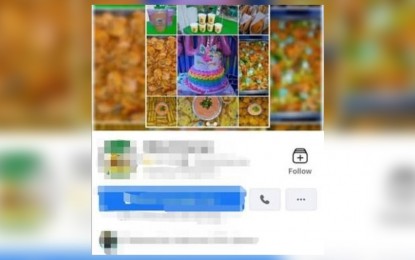 DUMAGUETE CITY – Police operatives and the National Bureau of Investigation (NBI) in Negros Oriental are now hunting down a woman accused of having "scammed" more than 30 people in relation to her food delivery and catering business.
Lt. Col. Ruben Verbo Jr., head of the Police Community Affairs and Development Unit and information officer of the Negros Oriental Provincial Police Office (NOPPO) told the Philippine News Agency on Wednesday afternoon that 39 people have filed a complaint of swindling/estafa against the suspect at the police station in Valencia town.
They trooped to the Valencia police station on Tuesday to lodge their complaints against the suspect, identified as Roselyn Dagoy who hails from Barangay East Balabag of that town, Verbo said.
"The suspect can no longer be found or reached through her mobile phone, and so far, more than PHP200,000 total have been lost to the suspect in failed transactions," he added in mixed English and Cebuano.
There could even be more complainants, based on social media posts by individuals who also claimed to have been victimized by the suspect's "fraudulent" or failed deals, he said.
The complainants were residents of Valencia, Bacong, and this capital, who claimed to have been scammed by the woman for failure to deliver food packages ordered online or did not receive a refund for their advanced payment.
The botched transactions ranged in amounts from PHP1,500 to as much as PHP35,000.
Verbo said the deals were made on different dates and some may have opted to not file a complaint immediately, hoping that they would be refunded or the food package ordered would be delivered on another day.
Initial police investigation showed the woman allegedly had two separate Facebook accounts with different business names based on comments posted by various individuals.
Verbo called on the public to be wary of online businesses and to first verify the authenticity of the person or persons behind these before making transactions to avoid being duped. (PNA)