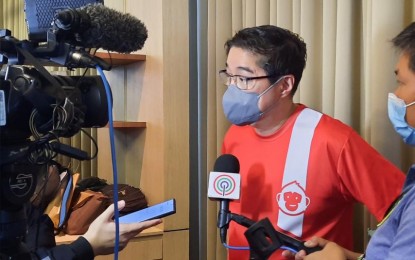 MANILA – Cebu Pacific Air Inc. chief executive officer Lance Gokongwei said on Wednesday the reopening of the economy has allowed the airline company to start rehiring, bullish on the outlook for the industry.
At the sidelines of an event in Ortigas, Pasig City, Gokongwei said they are aiming to bring back the number of its employees to pre-pandemic level of around 4,000.
"By early next year, we'll be back to where we were in 2019 in terms of headcount," Gokongwei told reporters. "Around 4,000, not including the ancillary service providers."
As of end-2021, the airline has full-time employees of 3,046 workers. It also anticipates ending this year with 3,678 employees.
The magnate said rehiring will include pilots, cabin crew, and customer-facing employees, as well as personnel in the head office, customer service, maintenance, and engineering.
Gokongwei said the company will prioritize getting back its employees that were laid off during the pandemic.
"We made a commitment to our people that we will prioritize them… and that's what we're trying to do," he added.
Gokongwei is also optimistic about the outlook of the airline industry despite the rising oil prices, as governments both here and abroad ease travel restrictions by no longer requiring coronavirus disease 2019 (Covid-19) tests and quarantine as long as travelers are fully vaccinated.
"Basically, the whole world is opening up already, removing all the unnecessary friction cost(s)… The government regulations recognized this, so they remove(d) these cost frictions that so far deterred travelers, that's why it's coming back," he said.
Gokongwei said its domestic flights "are pretty much flying pre-Covid" levels, while growth is also seen in Southeast Asian countries.
"I think, the bigger opportunity over time is in the north Asian countries. We think Japan will open up soon, and early next year hopefully Hong Kong and China and Macau," he added. (PNA)