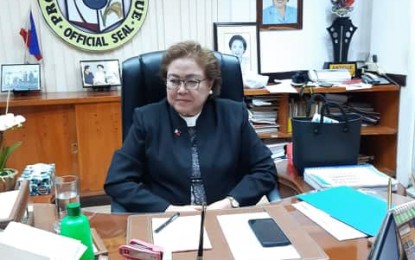 SAN JOSE DE BUENAVISTA, Antique – The inauguration and oathtaking of Antique's elected local leaders that will be administered by province's outgoing congresswoman and now Senator-elect Loren Legarda will be simple yet meaningful.
Governor Rhodora Cadiao said in an interview Wednesday officials will be wearing their Filipiniana attire with no ostentatious garment accessories.
"I remind the newly elected officials to just wear their simple Filipiniana or Patadyong, which is Antique's famous handwoven fabric," she said.
It would be fitting that the celebration is simple since the health pandemic has affected not just the province's economy but practically all Antiqueños, she added.
The activity will be from June 27-28 with separate venues for elected local officials coming from the northern and southern parts of the province.
"The first day of inauguration and oathtaking on June 27 will be at the Evelio B. Javier Park where Senator-elect Loren Legarda will induct into office the elected municipal officials of the seven towns of Tobias Fornier, Hamtic, Sibalom, San Remigio, Valderrama, Belison and San Jose de Buenavista in the southern part of Antique," she said.
Cadiao will also take her oath before Legarda together with Congressman-elect Antonio Agapito Legarda, Vice Governor Edgar Denosta and 10 members of the provincial board.
After swearing the local officials, the senator-elect will take her oath before Barangay Captain Macario Bagac of Mag-aba, Pandan, her place of residence, also in the same venue.
The next day, the inauguration and mass oathtaking for the elected northern municipal officials will be held in the municipality of Culasi.
"I had asked Senator-elect Legarda that we also hold inauguration and oathtaking for the northern town elected municipal officials and it is good that she had agreed on it," Cadiao said.
Expected to take oath are elected officials of the towns of Patnongon, Pandan, Sebaste, Tibiao, Barbaza, Bugasong, Caluya, Culasi, Laua-an, and Libertad. (PNA)